Do you plan to celebrate your little girl's birthday party? If you are confused choosing the theme, why don't you have Little Mermaid as the birthday party theme? Most girls love this character since she is beautiful and friendly. One of the characters you may use is Ariel. She comes in purple clothes and red hair. She has lots of friends because she is very nice. Ariel loves to help people in difficult. Wish your little daughter grows nicely as Ariel the Little Mermaid.
Here, we will show you the example of free printable birthday party invitations in Little Mermaid themes. We don't only give you the freely template, but also the party ideas. This free printable template is in JPEG format that will ease you to prepare the party well. This template has great resolution in HD quality. That is why we called it as the easiest template ever.
It is possible for you to have your own wording and also write the date, time, place, name and of course RSVP number. Your work will be easily if you can operate CorelDraw or Photoshop. These applications is really helpful.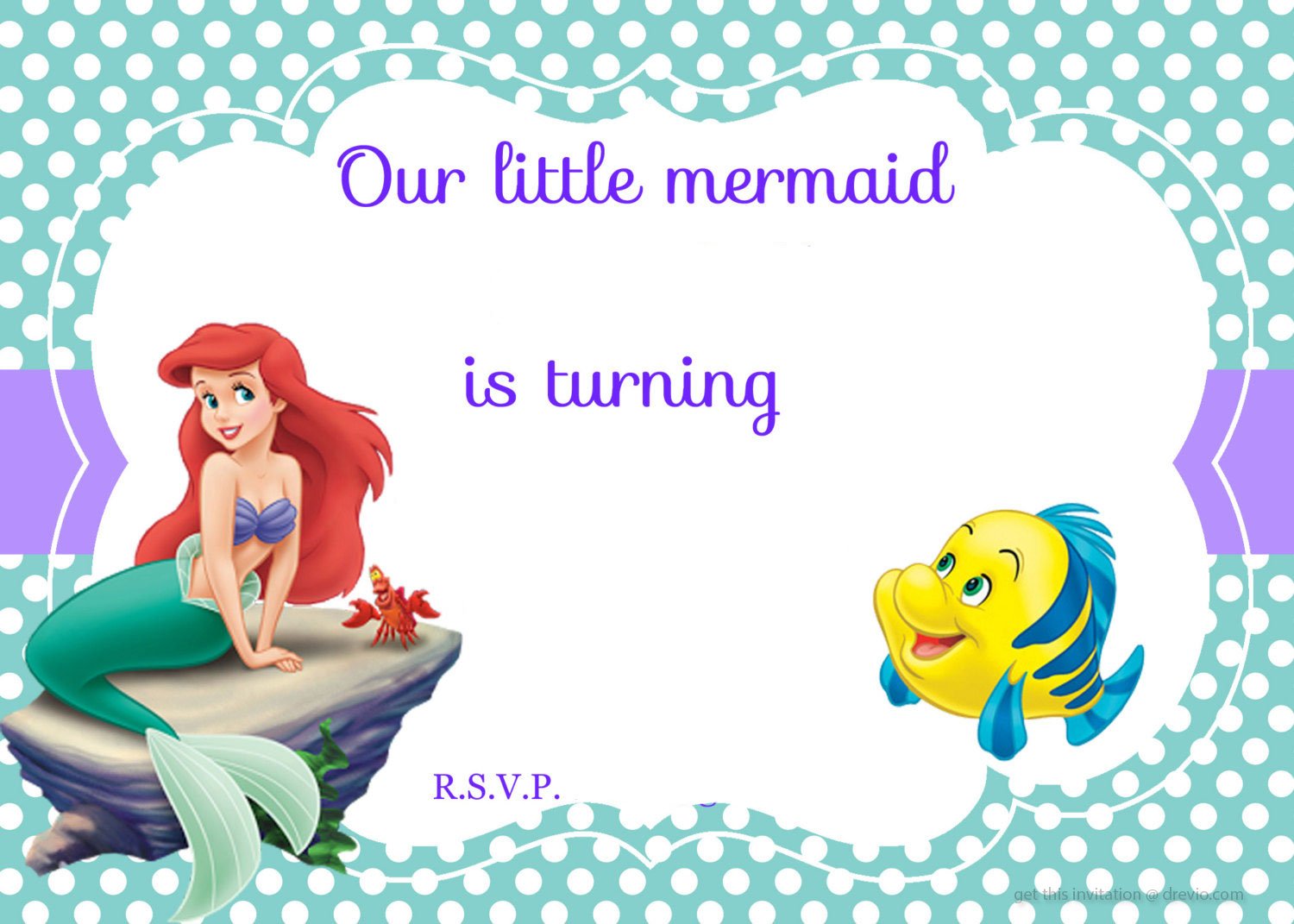 How to download this template?
Trust me. It is very easy to have this free printable birthday party invitations. You just need to click on the image, then save it. Place the file on your computer. Next, print the template as you need and customize it.
What is the best paper for this card?
We hardly recommend you to use cardstock paper. Why? Because this kind of paper gives you authentic paper that will make your invitation card look great.
Wording example for free printable Little Mermaid birthday party theme
Hundreds of wording you can find out of there. But here we will write one wording example. It is possible to use this wording or you may have your own way.
Our Little Mermaid is turning 5
Join us to celebrate her birthday party!
Sunday, April 2nd, 2017
4 pm to 6 pm
At Fionna House
45 Garden Park Edinburgh
RSVP to Key: 396-983582
Little Mermaid Birthday Party Ideas.
Below are some of Little Mermaid birthday party ideas you can have. You may see the colorful cupcakes and lollipop that will make every people happy. We suggest you to color the wall to enliven the party. One more, you may ask everyone to wear Mermaid's head-craft. Give it when you send the invitation card to them. Check this out.