Your little daughter is turning one? Why don't you hold a birthday party to celebrate her birth? Enjoy the party with families and friends. Share joy to everyone and your daughter will be happy too. This article want to show you what stuff you have to prepare before holding the party.
Here is a free birthday party invitation template in Hello Kitty theme. Of course you can find lots of birthday party theme as your favorite cartoon has. Hello Kitty is one of cartoon characters that every girl love. She comes in pink dress and always wears pink ribbon. She is so cute for a cat. Almost girls in this world know her since she adorned stationary, bag and other school stuffs. This invitation template is in JPEG format. It will ease you to have because you need to download. The good news is you can customized this card. It is free for you to write the wordings. It has high resolution in HD quality, so you don't have to worry if the image comes in bad one.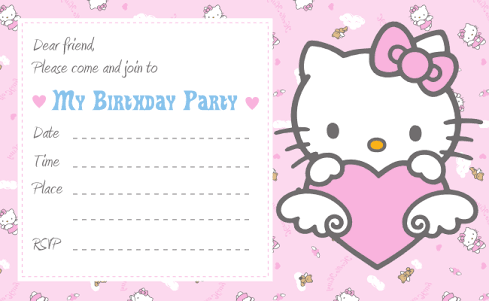 How to download this template?
We bet every people nowadays can operate computer. To get this free birthday party invitation template, you need to click on the image and save to your folder. Next, you can start printing all the card that has been customized.
What is the best paper for this card?
We hardly recommend you to use a cardstock paper because it makes your printing authentically. Cardstock paper gives a sharp image as you print your photos.
Wording example for free birthday party invitation template
Below is one example of wording that can be used. Actually there are hundreds of wordings you may find out of there.
Our Little Kimberly is Turning
ONE
Please come out and celebrate…
It won't be a party without YOU!!!
Date:
August 12, 2012
Time:
2-4
Location:
East Athens Community Center
Please RSVP with Terry at 123.456.7890
Hello Kitty Birthday Party Ideas
These are some Hello Kitty's party ideas you can adapt to your event. Having lots of cupcakes and chocolate in Kitty's theme is such a great idea. Add colorful balloons to your room to enliven the party. It is recommended for you to have pink or reddish color for your wallpaper.