Are you excited about hosting a baby shower filled with cuddly teddy bears and adorable moments? Planning a Teddy Bear Themed Baby Shower is an excellent choice to celebrate the forthcoming arrival of a new bundle of joy.
In this extensive guide, we will provide you with detailed and creative ideas to make your teddy bear-themed baby shower an unforgettable event for the mom-to-be and all the guests.
Teddy Bear Themed Invitations
The first step in organizing a memorable Teddy Bear Themed Baby Shower is setting the tone with invitations that reflect the theme.
Your invites should give guests a glimpse of the cuddly, bear-filled celebration they can expect. Here, we'll delve into the intricacies of crafting the perfect Teddy Bear-themed invitations.
Invitation Design and Template Selection
When choosing your invitation design, consider the theme's color palette and style. Opt for soft, pastel colors like beige, light brown, and baby blue to evoke a cozy teddy bear atmosphere.
You can find numerous teddy bear-themed invitation templates online that you can personalize to suit your event. Whether you prefer digital invitations or printed ones, select a template that resonates with the heartwarming spirit of teddy bears.
How to Download
What you need to do is click (left-click) the preview image.
You should see a new page popped-up in your display, then you need to "right-click" the image and select "Save image as"
Locate the destination folder, or just leave it as it is. Then "Enter" to start the download process.
Please note this, all files/materials have been included in that package, so once it's finished, you are able to customize it right away.
Personalized Message and Event Details
Craft a warm and inviting message that sets the tone for your baby shower. Phrases like "Join us to celebrate the cuddly arrival!" or "A Beary Special Day Awaits" can add a delightful touch.
Ensure you include all essential details, such as the date, time, venue, and RSVP information. Clear and comprehensive invitations will help guests plan accordingly and build excitement for the event.
Teddy Bear Decorations
Creating a captivating visual atmosphere is a crucial part of your Teddy Bear Themed Baby Shower. The decorations will transport your guests into a world of teddy bear charm. Let's explore the various elements that can turn your venue into a teddy bear wonderland.
Teddy Bear Balloons and Banners
Start by setting the stage with teddy bear balloons and banners. These decorations instantly establish the theme's playful and inviting ambiance.
Consider using helium-filled teddy bear balloons that float gracefully around the venue. You can find these balloons at party supply stores or online.
Alongside the balloons, hang teddy bear-themed banners to further enhance the atmosphere.
Teddy Bear Centerpieces and Confetti
Your tables can become a focal point of teddy bear delight by using plush teddy bears as centerpieces. Place one at the center of each table and surround them with teddy bear-shaped confetti. These charming details create a cohesive and inviting environment where guests can immerse themselves in the theme.
Teddy Bear Diaper Cake
A diaper cake can serve as both a decorative centerpiece and a practical gift for the mom-to-be. Assemble layers of diapers into a tiered cake shape and adorn it with teddy bear plushies and baby essentials. This eye-catching piece will not only wow your guests but also provide a useful gift for the expecting parent.
Teddy Bear Themed Food and Drinks
No baby shower is complete without delicious treats and refreshments. With a Teddy Bear Themed Baby Shower, you can turn your menu into a delightful teddy bear picnic. Let's dive into the details of planning your teddy bear-inspired feast.
Teddy Bear Cake
A Teddy Bear-shaped cake is the crown jewel of your dessert table. You have the option to either order a professionally crafted cake or embark on a baking adventure using a Teddy Bear cake mold.
These molds, like the one available on Amazon, make it easier to create a stunning cake that captures the essence of a cuddly teddy bear.
Teddy Graham Snacks and Bear-shaped Cookies
Keep the teddy bear theme going with snacks like "Teddy Grahams" and a selection of bear-shaped cookies.
You can use cookie cutters, such as these Teddy Bear Cookie Cutters from Amazon, to craft fun and adorable shapes. These treats are sure to delight both children and adults alike.
Teddy Bear Punch
Quench your guests' thirst with a Teddy Bear-themed punch. Create a refreshing concoction using a mix of fruit juices and ginger ale.
To add an extra touch of whimsy, float gummy bears in the punchbowl. This playful detail will tie the entire menu to the teddy bear theme.
Teddy Bear Activities and Games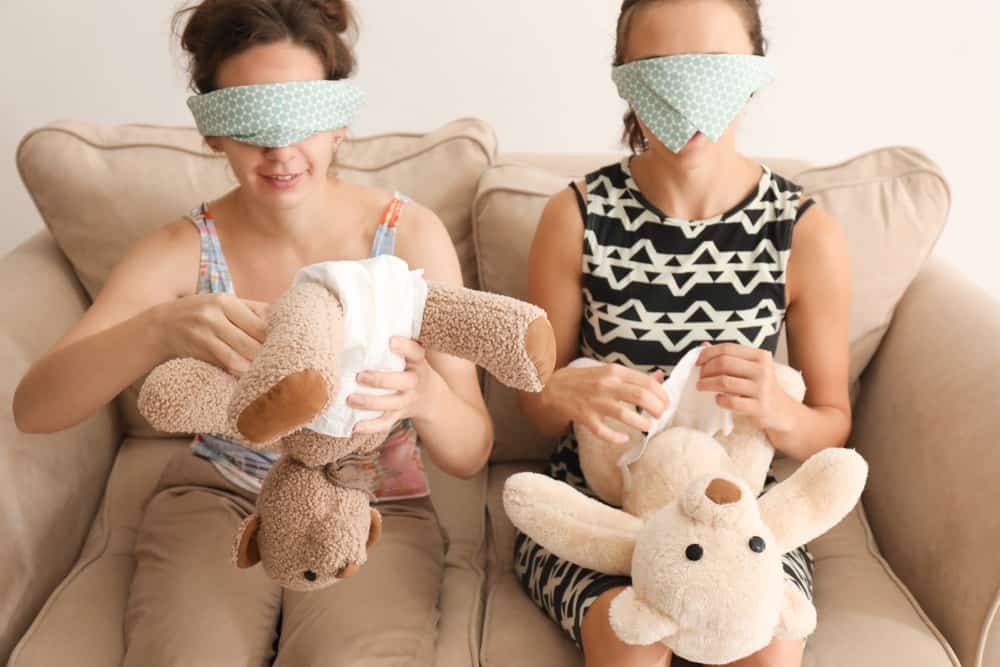 Engaging activities and games are essential for keeping your guests entertained and creating lasting memories. Let's explore a range of Teddy Bear-themed games and interactive elements that will make your baby shower a joyful experience for all.
Teddy Bear Adoption Center
Create a Teddy Bear Adoption Center where guests can choose and "adopt" their own teddy bear plushies.
Provide an assortment of plush teddy bears and adoption certificates to make the experience feel authentic and endearing.
This activity adds an element of interactivity and serves as a memorable keepsake for attendees.
Guess the Name of the Teddy Bear
Add a playful and competitive twist with the "Guess the Name of the Teddy Bear" game. Display a cute teddy bear and ask guests to suggest names for it.
The guest with the most creative or fitting name wins a prize. This game encourages participation and laughter.
Teddy Bear Onesie Decorating Station
Set up a "Teddy Bear Onesie Decorating Station" where guests can personalize plain onesies with fabric markers.
This creative activity allows guests to craft unique gifts for the baby while also fostering a sense of camaraderie and shared creativity.
Teddy Bear Themed Party Favors
Sending your guests home with thoughtful and thematic party favors is a gracious way to show appreciation for their presence. Teddy Bear-themed party favors will extend the warmth of your baby shower beyond the event itself.
Teddy Bear Keychains
Delight your guests with adorable Teddy Bear Keychains as party favors. These charming keepsakes are available on Amazon and come in various styles, making them a perfect token of appreciation. Guests can attach them to their keys or bags as a reminder of your heartwarming baby shower.
Teddy Bear Candles and Mini Plushies
Consider gifting teddy bear-shaped candles or mini plush teddy bears as party favors. These small yet meaningful tokens allow guests to take a piece of the teddy bear-themed celebration with them. You can easily find these items online or at party supply stores.
Teddy Bear Dress Code
Encouraging guests to embrace the theme through their attire adds an extra layer of fun and participation to your baby shower. Here's how you can suggest a Teddy Bear-themed dress code.
Bear Ears Headbands and Bear Paw Gloves
Invite guests to wear bear ears headbands or bear paw gloves to embrace the theme fully. These accessories are readily available online or can be crafted as DIY projects. Encourage attendees to let their inner teddy bear shine through their outfits.
Bear Onesies for All Ages
Extend the dress code to include bear onesies for guests of all ages. Whether they're children or adults, everyone can join in the teddy bear fun by wearing cozy bear-themed onesies.
You can find a variety of options online or at local clothing stores. Having a mix of teddy bear onesies adds a whimsical touch to your celebration and encourages guests to fully embrace the theme.
Teddy Bear Themed Photo Booth
A photo booth is a fantastic addition to any baby shower, and with a Teddy Bear Themed Baby Shower, you can create a charming backdrop that allows guests to capture delightful memories. Let's dive into the details of setting up a teddy bear-themed photo booth.
Photo Booth Props and Backdrop
Designate an area for a teddy bear-themed photo booth and decorate it with props such as oversized glasses, teddy bear hats, and a backdrop that features adorable teddy bear illustrations or patterns.
You can find printable backdrop options online or consider creating your own using teddy bear-themed fabric. The props and backdrop will encourage guests to snap memorable and heartwarming photos.
Teddy Bear Baby Shower Cake Topper
Elevate the centerpiece of your dessert table—the teddy bear cake—with a specially crafted cake topper. A themed cake topper adds an extra layer of charm to your Teddy Bear Themed Baby Shower.
Choosing a Teddy Bear Cake Topper
When selecting a cake topper, look for one that complements the overall theme and style of your baby shower.
This Teddy Bear Cake Topper, available on Amazon, features an adorable bear and is a perfect addition to your cake.
It effortlessly ties together the cake's design with the teddy bear motif, making it a delightful focal point.
Teddy Bear Themed Thank You Cards
Expressing gratitude to your guests is a heartfelt way to conclude your Teddy Bear Themed Baby Shower. Personalized thank you cards with a touch of the teddy bear theme provide a thoughtful closure to the event.
Personalizing Thank You Cards
Design thank you cards that incorporate teddy bear illustrations or graphics. Personalize each card with a warm message, expressing your appreciation for your guests' presence and well wishes.
Consider adding a photo from the baby shower as a cherished memory. Handwritten notes make these tokens of gratitude even more special.
Conclusion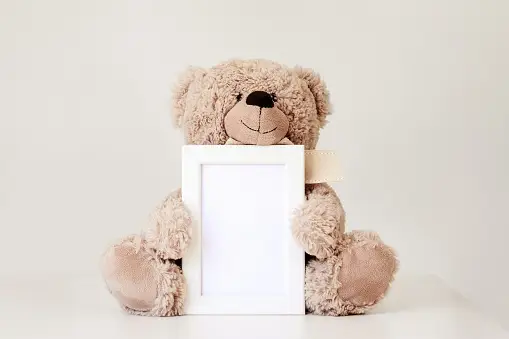 In conclusion, a Teddy Bear Themed Baby Shower is a delightful and heartwarming way to celebrate the impending arrival of a new member of the family.
By incorporating these detailed ideas into your planning, you can create an event that's as cozy and endearing as a teddy bear's embrace.
So, gather your loved ones, and let the teddy bear festivities begin. Your baby shower will not only be a cherished memory for the mom-to-be but also a joyous occasion for all who attend. Happy planning!