When it comes to celebrating the imminent arrival of a new baby, few themes capture the magic and nostalgia like Storybook Characters.
Whether you grew up reading about the adventures of Winnie the Pooh, Alice in Wonderland, or Peter Pan, these timeless tales hold a special place in our hearts.
In this comprehensive guide, we'll delve into every aspect of planning a Storybook Characters Themed Baby Shower Party, ensuring that every detail is as enchanting as the stories themselves.
Invitations with a Storybook Twist
The first step in hosting a memorable Storybook Characters Themed Baby Shower is to create invitations that set the stage for an enchanting event. Let's explore some ways to make your invitations truly captivating:
Book Cover Invitations
Imagine receiving an invitation that resembles a miniature book cover with your favorite storybook character as the focal point. The creativity here knows no bounds.
Craft these invitations with attention to detail, including the baby's name as the "author" and a title like "The Adventure Begins." This not only sets the tone but also makes for a keepsake.
Character Cutouts
Take your guests on a journey into the world of classic children's books by using character cutouts as the main visual on your invitations.
From the whimsical Winnie the Pooh to the adventurous Peter Pan, choose the character that resonates most with your theme.
Don't forget to include all the necessary shower details on the reverse side to ensure everyone knows when and where to join the adventure.
How to Download
What you need to do is click (left-click) the preview image.
You should see a new page popped-up in your display, then you need to "right-click" the image and select "Save image as"
Locate the destination folder, or just leave it as it is. Then "Enter" to start the download process.
Please note this, all files/materials have been included in that package, so once it's finished, you are able to customize it right away.
A Feast Fit for Fairy Tales
Food is a central element of any celebration, and your Storybook Characters Themed Baby Shower should be no exception. Let's explore a menu that not only tantalizes taste buds but also pays homage to beloved storybook foods:
Hundred Acre Wood Honey Cake
Channel the sweet tooth of Winnie the Pooh with honey-infused cakes that are a delight to both the eyes and taste buds.
To add that touch of authenticity, decorate them with intricate honeycomb patterns and miniature edible bees. These delightful creations will have your guests swooning for more.
Tea Party Finger Sandwiches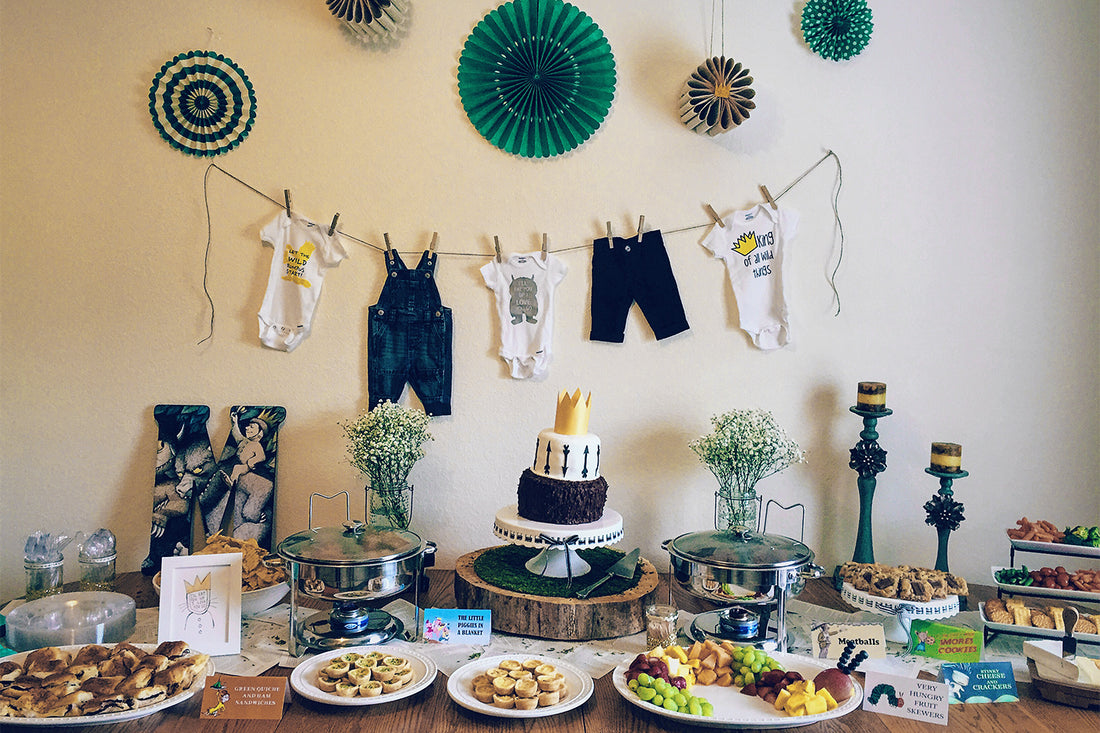 If you've chosen an Alice in Wonderland theme, transport your guests to the whimsical world of the Mad Hatter's tea party with an assortment of dainty finger sandwiches.
Serve up cucumber, egg salad, and smoked salmon variations, and don't forget to label them with "Eat Me" tags for that extra touch of magic.
Neverland Pirate's Punch
For an adventure-filled Peter Pan-inspired beverage, prepare a pirate's punch that will have everyone chanting, "Yo-ho-ho!"
This concoction can be crafted with blue raspberry lemonade as its base, complete with colorful fruit skewers resembling pirate swords. It's a drink that will quench both thirst and curiosity.
Enchanting Decorations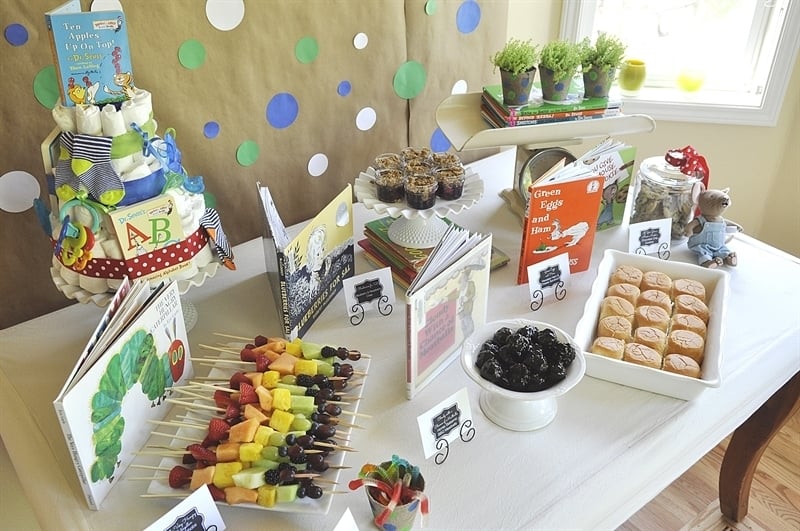 The decor at your baby shower should transport your guests into the pages of their favorite stories, creating a magical atmosphere that lingers in their memories. Here's how to bring your venue to life:
Book Page Banners
Set the stage by creating charming garlands from pages of classic children's books. The whimsical text and illustrations will evoke a sense of nostalgia among your guests. Hang these banners around the venue for a literary touch that's hard to resist.
Storybook Character Balloons
Balloons are the cornerstone of any decoration project, and when they take the form of beloved storybook characters like Mickey Mouse or Cinderella, they become enchanting centerpieces. These balloons add a pop of color and charm that's impossible to overlook.
Themed Table Settings
Elevate your table settings with tablecloths and dishes that feature iconic storybook imagery.
Imagine sipping tea from cups adorned with Cinderella's glass slipper or enjoying a meal on plates featuring Snow White's iconic apple. These small details will leave your guests in awe.
Dress the Part
Encourage your guests to fully immerse themselves in the Storybook Characters Themed Baby Shower by suggesting they come dressed as their favorite characters. Here are some costume ideas to help your guests look the part:
Peter Pan and Wendy
Transform a couple into the adventurous duo of Peter Pan and Wendy. The charm of Neverland will come to life with their costumes, and it's a fun way for two guests to coordinate their outfits.
Peter can sport the classic green attire with a feathered cap, while Wendy can wear a blue nightgown and a blue bow headband.
Mary Poppins
For an elegant touch, someone can channel their inner Mary Poppins with a proper outfit and, of course, an umbrella. This costume choice exudes sophistication and nostalgia. Don't forget the iconic carpet bag for added authenticity.
Mad Hatter and Alice
Invite your guests to explore the whimsy of Wonderland by dressing as the Mad Hatter and Alice. These costumes allow for creativity and colorful accessories. The Mad Hatter can sport a top hat adorned with playing cards and ribbons, while Alice can wear a classic blue dress with a white apron.
Storybook Games Galore
No baby shower is complete without engaging games that bring your guests together in laughter and camaraderie. Here are some entertaining storybook-themed game ideas:
Book Character Charades
Turn the baby shower into a stage for classic children's book characters. Guests can act out characters while others guess who they are. Use cards with character names for added convenience.
The team with the most correct guesses wins a prize, adding an element of friendly competition to the festivities.
Guess the Book
Challenge your guests' knowledge of beloved stories with a "Guess the Book" game. Display snippets from different storybooks and have guests guess the book's title.
You can even read out excerpts or show movie clips to make it more interactive. The guest with the most correct answers wins a delightful prize.
Fairy Tale Bingo
Create custom bingo cards featuring storybook characters and elements. As the shower progresses, guests can mark off their cards as they spot characters or events that match their bingo cards. It's a fun and interactive game that keeps everyone engaged throughout the event.
Where to Find Supplies
To transform your baby shower into a storybook wonderland, you'll need the right supplies. Here are some products available on Amazon to help you get started:
Storybook Character Cutouts: These cutouts feature a variety of beloved characters and can be used for invitations, decorations, or even as props for photos.
Vintage Book Pages: Use these vintage book pages to create banners, table settings, and other decorations with an authentic storybook feel.
Character Balloons: Choose from a wide selection of character balloons to add a whimsical touch to your decor.
Costume Accessories: Find costume accessories like hats, wigs, and props to help guests get into character.
With this comprehensive guide to Storybook Characters Themed Baby Shower Party Ideas, you're equipped to plan an unforgettable event that combines the magic of timeless stories with the joy of welcoming a new baby.
From enchanting invitations to delectable treats, charming decorations to engaging games, your baby shower will be a fairy tale come to life, creating memories that will last a lifetime. Happy baby shower planning!