Anticipating the arrival of a new bundle of joy is a momentous occasion, and what better way to celebrate than with a Snow Dreams themed baby shower?
In this comprehensive guide, we'll delve into the enchanting world of Snow Dreams and provide you with detailed ideas to ensure your baby shower is a winter wonderland to remember.
Invitations That Set the Frosty Tone
Begin your Snow Dreams themed baby shower by setting the tone with invitations that transport your guests to a snowy wonderland. To achieve this, consider designs featuring intricate snowflakes, shimmering icicles, or the endearing presence of snowmen.
Websites like Beeshower or Drevio offer a plethora of pre-designed options, or you can unleash your creativity and customize your invitations using design software. Make sure to include all the essential details such as the date, time, location, and RSVP information.
How to Download
What you need to do is click (left-click) the preview image.
You should see a new page popped-up in your display, then you need to "right-click" the image and select "Save image as"
Locate the destination folder, or just leave it as it is. Then "Enter" to start the download process.
Please note this, all files/materials have been included in that package, so once it's finished, you are able to customize it right away.
For a touch of personalization, you can add a heartfelt message that conveys the excitement of welcoming your little snowflake into the world.
The choice of fonts and color schemes plays a pivotal role in echoing the frosty theme; opt for elegant cursive fonts and icy shades of blue and silver to evoke a sense of winter magic.
Snowy Treats and Delightful Eats
No baby shower is complete without a delectable spread of treats and eats, and when it comes to a Snow Dreams theme, you have a world of possibilities to explore. Here, we delve into the specifics:
Snowflake Cupcakes
Elevate your dessert game with cupcakes adorned in intricate snowflake patterns. Achieve this frosty look with edible glitter or meticulously crafted fondant snowflakes.
Choose a flavor palette that resonates with the chill of winter, such as vanilla with blueberry filling or white chocolate with a snowy buttercream swirl.
Icy Blue Punch
Quench your guests' thirst with a refreshing icy blue punch. Combine lemon-lime soda with pineapple juice and top it off with a scoop of velvety vanilla ice cream.
To keep the wintry vibes strong, consider adding a handful of plump blueberries. Serve this delightful concoction in elegant glass pitchers with snowflake-shaped ice cubes for an extra touch of enchantment.
Snowball Cookies
Treat your guests to irresistible snowball cookies, also known as Russian Tea Cakes. These bite-sized delights are dusted with powdered sugar and possess a melt-in-your-mouth quality that's impossible to resist.
Package them in delicate snowflake-decorated boxes or bags, ensuring your guests have a sweet keepsake to take home.
Hot Chocolate Bar
Set up a hot chocolate bar that encourages your guests to become their own baristas. Offer an array of toppings, including fluffy marshmallows, billowy whipped cream, and delicate chocolate shavings. Let everyone customize their perfect cup of cocoa.
To enhance the presentation, provide charming snowflake-shaped mugs and glass jars filled with rich cocoa powder. This not only satisfies taste buds but also adds an aesthetic dimension to your dessert table.
Dreamy Decorations for the Winter Wonderland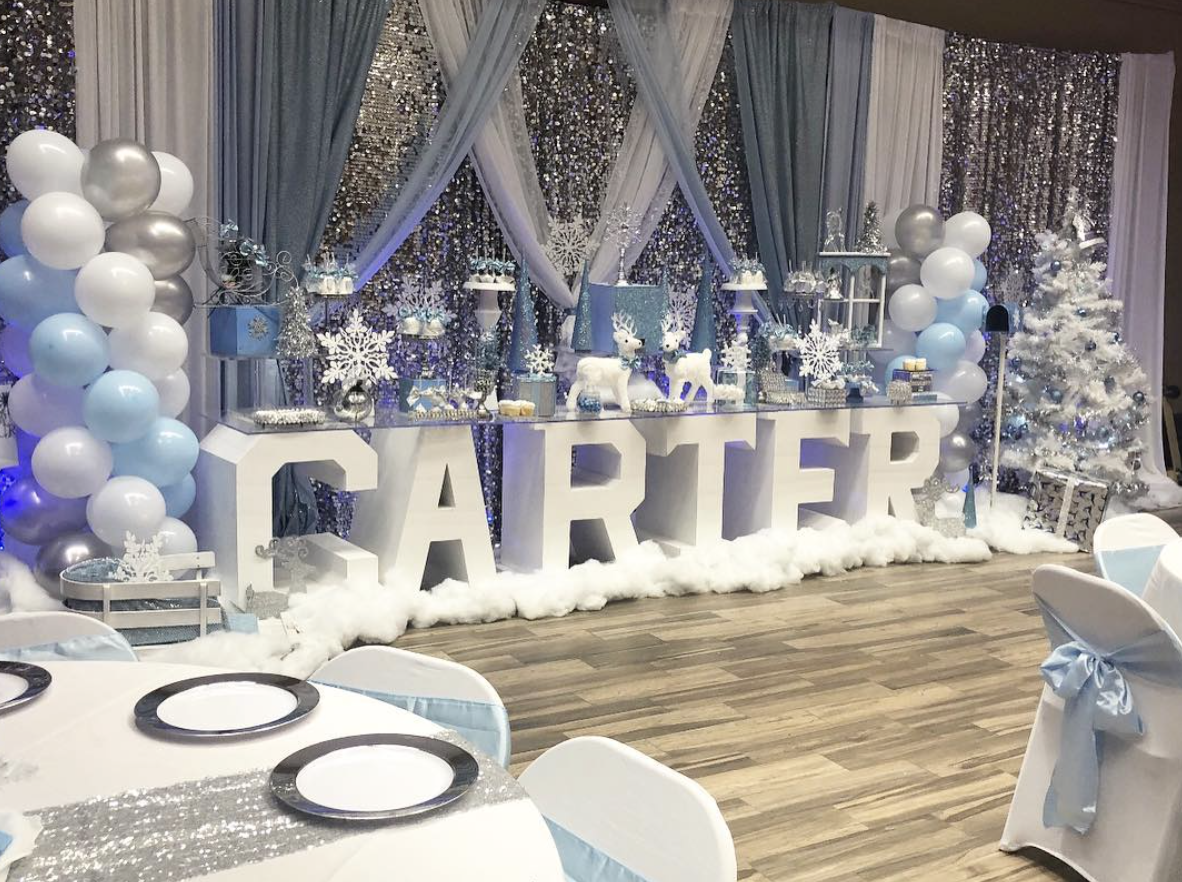 Transform your chosen venue into an enchanting snowy haven with these captivating decoration ideas:
White Balloons and Snowflakes
Start by adorning the room with an abundance of pristine white balloons and delicate paper snowflakes. This simple yet effective touch instantly creates a dreamy atmosphere.
Hang the snowflakes from the ceiling at varying heights to mimic the appearance of falling snow. As for the white balloons, they can be grouped in clusters to resemble fluffy snowdrifts.
Faux Fur Throws and Pillows
Provide a sense of warmth and coziness by incorporating faux fur throws and plush pillows into your seating area. Not only do they enhance comfort, but they also contribute to the overall winter aesthetic. Opt for shades of ivory, gray, or pale blue to maintain the frosty ambiance.
Snowy Centerpieces
Elevate your tables with enchanting centerpieces that mimic the look of freshly fallen snow. Fill glass jars with Epsom salt, which beautifully resembles glistening snow crystals. Add a touch of nature with sprigs of baby's breath or white flowers for an elegant flourish.
Enhance the centerpiece by placing LED tealights within the jars to create a soft, warm glow reminiscent of candlelit snowscapes.
Frozen-inspired Backdrop
Capture the essence of Disney's Frozen with a visually stunning backdrop. Incorporate iconic Frozen characters like Elsa and Olaf amidst a mesmerizing winter wonderland.
Whether handcrafted or professionally designed, this backdrop will be the focal point of your celebration.
Consider incorporating shimmering sequin curtains, twinkling fairy lights, and life-sized cutouts of beloved characters to transport your guests into the heart of the animated snow-covered kingdom.
Charming Party Activities
Keep your guests engaged and entertained with activities that perfectly align with the Snow Dreams theme:
Winter Onesie Decorating
Provide plain white onesies and an assortment of fabric markers or paints. This activity allows your guests to channel their creativity and decorate unique onesies for the newest member of the family.
Encourage participants to draw adorable snowmen, tiny snowflakes, or heartwarming messages that will adorn the baby's wardrobe.
Baby Snowflake Bingo
Incorporate a game of Baby Snowflake Bingo into the festivities. Guests can engage in friendly competition with snowflake-themed bingo cards, complete with small prizes for the lucky winners.
Customize the bingo cards with winter-related images and terms to maintain the theme's consistency.
Storybook Signing
Encourage guests to bring their favorite winter-themed children's books and inscribe heartfelt messages to the baby.
This thoughtful gesture ensures cherished memories and a growing library of winter tales for the little one.
Provide a dedicated signing table with elegant pens and snowy-themed decorations to enhance the experience.
Dress the Part
To fully immerse everyone in the Snow Dreams theme, encourage your guests to dress in cozy and winter-inspired attire. For the mom-to-be, consider a stunning snowflake-themed maternity dress, such as this beautiful option available on Amazon.
This choice of attire not only emphasizes the theme but also allows the expectant mother to feel like the true queen of the winter wonderland.
As for your guests, they can embrace the theme by donning sweaters, scarves, or accessorizing with snowflake-themed jewelry. This collective effort enhances the overall ambiance of the celebration and creates a visually cohesive look that photographs beautifully.
Party Favors with a Frosty Flair
Show your appreciation to your guests with charming party favors that evoke the spirit of your Snow Dreams baby shower:
Snowflake Cookies
Prepare or purchase snowflake-shaped cookies and package them in clear bags tied with elegant blue or silver ribbons. These delectable treats make for a delightful parting gift.
You can even consider including a personalized thank-you note expressing your gratitude for sharing in this special day.
Mini Hot Cocoa Kits
Craft mini hot cocoa kits featuring a cute mug, hot chocolate mix, marshmallows, and a candy cane. These thoughtful kits ensure your guests can continue to enjoy warm moments at home, reminiscing about the sweet and cozy atmosphere of the baby shower.
Snow Globe Keychains
Leave a lasting impression with adorable snow globe keychains as party favors. These mini snow globes are not only charming but also serve as delightful keepsakes.
Customize them with a small photo of the expectant parents or a charming winter-themed image, encapsulating the magic of the Snow Dreams theme.
Ensure each keychain is securely packaged to prevent any damage during transport, and consider attaching a small note expressing your gratitude for their presence on this special day.
Conclusion
In conclusion, hosting a Snow Dreams Themed Baby Shower is all about creating a magical winter wonderland to celebrate the upcoming arrival of your precious little one.
With enchanting invitations that set the frosty tone to charming party favors that leave a lasting impression, your baby shower will undoubtedly be a memorable and heartwarming celebration.