Are you preparing to host a baby shower and want a theme that's not only adorable but also filled with fun? Look no further than the "Little Man Mustache" theme! This delightful theme is a fantastic way to celebrate the upcoming arrival of a baby boy.
In this comprehensive guide, we'll walk you through every aspect of hosting a memorable Little Man Mustache Themed Baby Shower, ensuring that no detail is left out.
Invitations That Set the Tone
To set the perfect tone for your Little Man Mustache-themed baby shower, it's essential to start with invitations that capture the essence of your theme.
Consider using classic black and white color schemes adorned with cute mustache graphics. Here's a detailed breakdown of what to include in your invitations:
Date, Time, and Location: Specify the date, time, and location of the baby shower. This information ensures that your guests know when and where to join in the celebration.
RSVP Information: Include clear instructions for RSVP, whether it's a phone number, email address, or a designated RSVP card. This helps you plan for the number of guests attending.
Message or Poem: Add a heartfelt message or poem that ties into the mustache theme. This personal touch can convey the excitement and anticipation of welcoming the little man.
Pro Tip: You can easily find charming Little Man Mustache baby shower invitation templates on websites like Beeshower or Drevio.
How to Download
What you need to do is click (left-click) the preview image.
You should see a new page popped-up in your display, then you need to "right-click" the image and select "Save image as"
Locate the destination folder, or just leave it as it is. Then "Enter" to start the download process.
Please note this, all files/materials have been included in that package, so once it's finished, you are able to customize it right away.
Mustache-Themed Decorations
Creating the right ambiance is crucial in making your baby shower memorable. Here are some mustache-themed decoration ideas to make your venue come alive:
Mustache Balloons
Choose black balloons with white mustache designs to add whimsy and playfulness to the atmosphere. Helium-filled balloons can float above tables, creating a delightful visual effect.
Table Centerpieces
Craft adorable centerpieces featuring miniature bow ties and mustaches. These can be made using simple craft supplies, such as colored paper and glue, and placed at the center of each table.
Mustache Banners
Hang banners with phrases like "It's a Little Man!" to welcome your guests and set the tone for the party. These banners can be personalized with the baby's name or a special message.
Mustache Confetti
Elevate your table decor by scattering mustache-shaped confetti. This small detail adds a touch of elegance and whimsy to your table settings.
Little Bow Ties
Decorate chairs or table settings with tiny bow ties in various shades of blue. These can be made from ribbon or fabric and add a charming touch to the overall look.
Tip: Amazon offers a wide selection of Little Man Mustache-themed party decorations.
Delicious Mustache Treats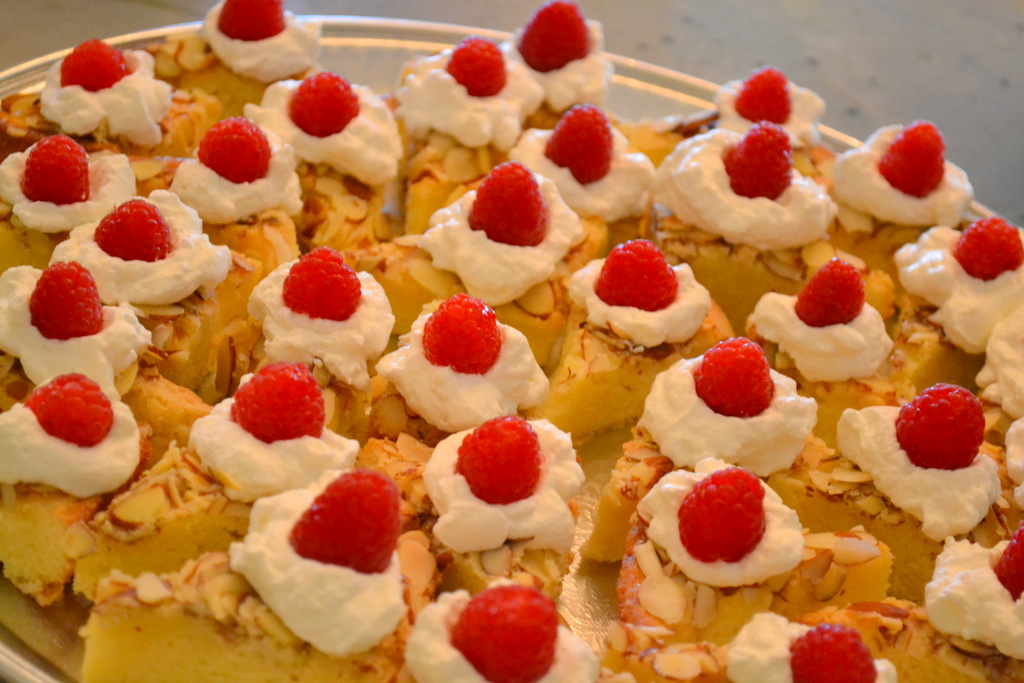 Treats and sweets are essential at any baby shower. When it comes to a Little Man Mustache theme, you can infuse creativity into your menu. Here are some mustache-themed treat ideas to tantalize taste buds:
Mustache Cupcakes
Elevate your dessert table with cupcakes adorned with mustache toppers made from fondant or edible paper. The black and white color scheme can be consistent with your theme.
Mustache Cookies
Bake sugar cookies in the shape of mustaches and decorate them with intricate royal icing designs. These edible works of art can serve as both treats and decorations.
Mustache Cake
Consider having a mustache-shaped cake as the centerpiece of your dessert table. A talented baker can create a cake that not only looks delightful but tastes fantastic.
Mustache-shaped Sandwiches
Extend the theme to savory treats by creating sandwiches using mustache-shaped cookie cutters. These can be filled with various ingredients to cater to different tastes.
If baking isn't your forte, many local bakeries specialize in custom cakes and cookies, making it easy to order mustache-themed treats.
Dress Code: Mustache Mania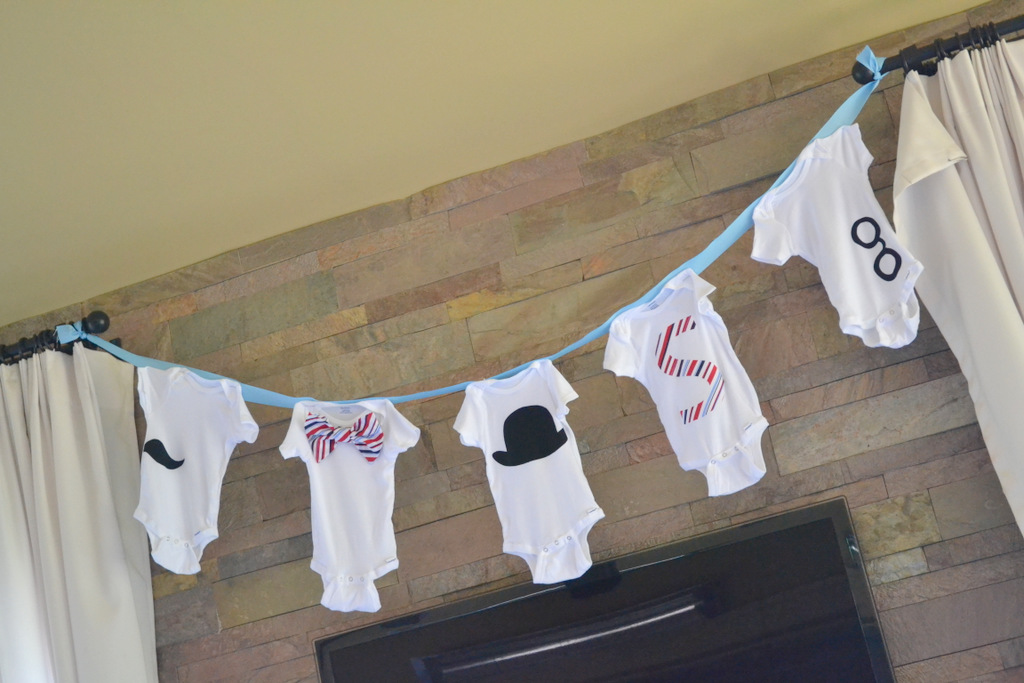 To fully immerse your guests in the Little Man Mustache theme, encourage them to embrace mustache-themed attire. Here are some creative ideas:
Mustache Props: Provide an assortment of fake mustaches on sticks for guests to wear. These props not only enhance the theme but also make for fantastic photo opportunities.
Bow Ties and Neckties: Suggest that guests wear bow ties or neckties to align with the theme. These accessories add a touch of sophistication and contribute to the overall aesthetic.
Mustache Masks and Stickers: Offer mustache masks or stickers for guests to wear during the party. These fun accessories can ignite the party spirit and serve as conversation starters.
Mustache-Themed Games and Activities
Interactive games and activities keep the party lively and entertaining. Here are some mustache-themed ideas to engage your guests:
Mustache Bingo
Create bingo cards featuring mustache images instead of traditional numbers. This twist on a classic game adds a playful element to your event.
Guess the Baby Mustache
Encourage guests to bring baby photos of themselves to the party. Then, everyone can try to guess who's who based on the baby mustaches drawn on the photos. This activity is sure to evoke laughter and nostalgia.
Mustache Crafts
Set up a craft station where guests can channel their creativity to create mustache-themed keepsakes. This could include decorating onesies, bibs, or even custom mustache mugs.
Little Man Mustache Party Favors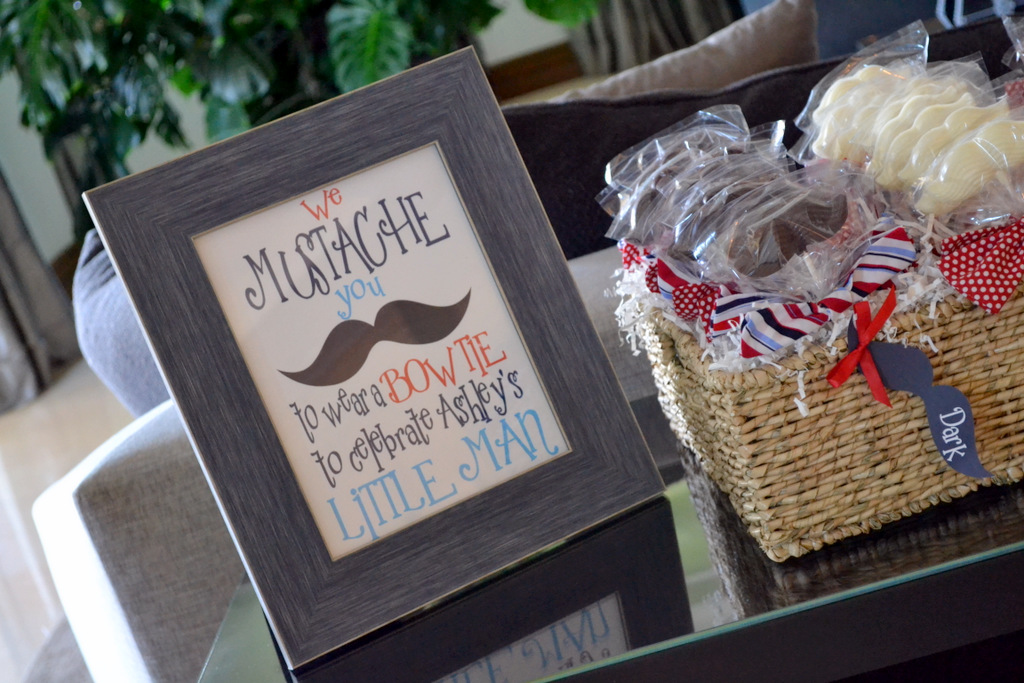 Show your gratitude to your guests with mustache-themed party favors that they can cherish. Here are some thoughtful ideas:
Mustache Keychains: Order mustache-shaped keychains as charming and practical keepsakes. These can serve as a reminder of the joyful celebration.
Mustache Socks: Provide guests with fun socks featuring mustache designs. These cozy gifts are sure to put a smile on their faces.
Mustache Soap: Gift mustache-shaped soap bars as unique and delightful party favors. These handmade soaps add a touch of luxury to your thank-you gifts.
Mustache Mugs: Customize mugs with mustache graphics and the baby's due date. These personalized mugs make for memorable and functional keepsakes.
Websites like Etsy offer a wide variety of Little Man Mustache-themed party favors to suit different preferences and budgets.
Capture the Memories
Ensure that the special moments of the baby shower are preserved for eternity by setting up a photo booth with mustache props and a themed backdrop. This provides your guests with the opportunity to take home lasting memories from the celebration.
With these detailed Little Man Mustache Themed Baby Shower ideas, you have all the elements needed to host a remarkable and charming celebration in honor of the little man on the way. Enjoy the festivities, and congratulations to the parents-to-be!