Planning a baby shower is an exciting journey, and when you choose a Jungle Safari theme, you're embarking on a wild adventure! Jungle-themed baby showers are not only trendy but also promise a roaring good time for everyone involved.
From the moment you send out invitations to the final farewell party favors, we've got you covered with creative and detailed ideas to make your Jungle Safari Themed Baby Shower an unforgettable event.
Invitations
The invitation is the first glimpse your guests will get into the jungle adventure that awaits them. To set the safari tone right from the start, consider creating custom invitations featuring adorable safari animals like lions, giraffes, and zebras.
These can be easily designed using online invitation platforms or crafted by a local artist. Don't forget to include playful phrases like "Join the Safari Adventure" or "Wild Times Ahead" to build excitement and anticipation.
How to Download
What you need to do is click (left-click) the preview image.
You should see a new page popped-up in your display, then you need to "right-click" the image and select "Save image as"
Locate the destination folder, or just leave it as it is. Then "Enter" to start the download process.
Please note this, all files/materials have been included in that package, so once it's finished, you are able to customize it right away.
Transforming Your Space into a Jungle Oasis
Transforming your party space into a jungle oasis is essential for creating the right atmosphere.
Start by selecting a color scheme dominated by lush greens and earthy browns. You can use green and brown balloons to mimic the jungle's foliage and hang vines made of green crepe paper from the ceiling to give the illusion of a dense jungle canopy.
A show-stopping focal point can be achieved with a safari-themed backdrop. You have the option to purchase jungle scene setters that depict realistic landscapes, or if you're feeling crafty, you can create one yourself using printed images of jungle scenes.
Adding stuffed animals like tigers, elephants, and monkeys around the room as table centerpieces will complete the jungle setting.
Food and Treats
For a truly immersive experience, your menu should be inspired by jungle cuisine. Consider serving dishes like tropical fruit skewers with a tangy mango dip, mini sliders featuring exotic meats, and coconut shrimp with a zesty dipping sauce. These options provide both variety and authenticity to your jungle feast.
The pièce de résistance, however, should be your jungle-themed cake. Enlist the talents of a skilled baker to craft a cake featuring a fondant jungle complete with edible animal figurines.
To make this task easier, you can find jungle-themed cake toppers on Amazon. This cake will not only be a feast for the taste buds but also a visual delight.
For those with a sweet tooth, cupcakes adorned with edible animal toppers can serve as a delightful addition to the dessert table. Adding playful touches like edible "jungle vines" made from licorice or green icing will enhance the overall theme.
Games and Activities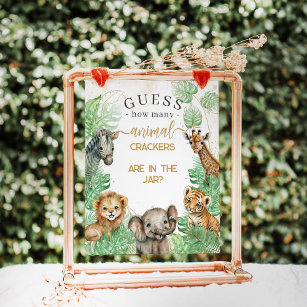 Games and activities are the heart of any baby shower, and a Jungle Safari-themed event offers unique opportunities for interactive fun. Here are some detailed ideas to keep your guests engaged:
Jungle Safari Scavenger Hunt
Organize a safari-themed scavenger hunt with hidden plush safari animals placed strategically around the venue. Provide guests with binoculars and safari hats to elevate the experience.
The first team to find all the animals wins a prize. This game not only adds excitement but also encourages teamwork and exploration.
Diaper Cake Decorating
Unleash your guests' creativity with a diaper cake decorating station. Supply them with plain diapers, colorful ribbons, and jungle-themed decorations like miniature animal figurines, leaves, and vines.
This activity allows guests to create their own unique diaper cake, and the finished products can be used as eye-catching decor during the event.
Guess the Baby Animal
Offer a fun and educational activity by showcasing pictures of baby animals and challenging guests to guess which adult animal they grow into.
Provide answer sheets and reveal the correct answers later in the party. This game adds an educational twist to the festivities and can spark interesting conversations among guests.
Party Favors
As the jungle adventure comes to a close, send your guests home with safari-themed party favors as tokens of the memorable day. Here are some detailed ideas:
Animal-Shaped Cookies
Arrange for adorable animal-shaped cookies, such as lions, elephants, and zebras, to be placed in favor bags. These delicious treats can be custom-made by a local baker or ordered online.
Jungle-Themed Candles
Explore jungle-themed candles featuring designs like tropical leaves, safari animals, or jungle scenes. These candles not only serve as charming keepsakes but also add a touch of ambiance to guests' homes.
Potted Plants
Symbolize the lush jungle with small potted plants, such as mini succulents or ferns, placed in decorative containers.
Attach personalized tags to the plants, thanking guests for joining the adventure. This favor is not only eco-friendly but also a living reminder of your special day.
When it comes to party favor packaging, you can find attractive and jungle-appropriate favor bags on Amazon. These bags make the perfect finishing touch to your safari-themed party favors.
Costumes: Dressing the Part
Encourage your guests to fully embrace the safari theme by dressing in appropriate jungle attire. Here are some detailed costume ideas for your Jungle Safari Themed Baby Shower:
Khaki Safari Outfits: Suggest that guests wear khaki shorts, shirts, or dresses to capture the essence of jungle explorers. Add pith helmets and safari hats for an extra touch of authenticity.
Animal Print Accessories: Encourage attendees to incorporate animal print accessories like scarves, belts, or even footwear into their outfits. These additions can be subtle yet contribute to the overall theme.
Incorporating costumes not only adds an extra layer of fun to the event but also creates fantastic photo opportunities. Be sure to have a designated photo area with jungle-inspired props and backdrops to capture the memories.
In conclusion, hosting a Jungle Safari Themed Baby Shower is a fantastic way to celebrate the upcoming arrival of your little explorer. With these detailed and creative ideas, along with some Amazon finds, you can embark on an unforgettable jungle adventure that will leave your guests roaring with delight!