Are you excited about planning a truly enchanting celebration to welcome the arrival of a new baby? Hosting a Floral Garden Themed Baby Shower is the perfect way to infuse elegance and charm into this special occasion.
This comprehensive guide will walk you through every step of creating a memorable floral garden baby shower, from crafting beautiful invitations to choosing decorations, organizing engaging games, preparing delightful treats, and selecting the perfect party favors.
Let's dive into the intricate details to ensure your event is a blooming success!
Invitations That Bloom
The invitation is your guests' first glimpse into the floral garden wonderland you're creating for the baby shower. It sets the tone for the event, so let's explore some intricate details to make these invitations truly bloom.
Blooming Blossoms Invitations
Choose invitations adorned with intricate watercolor floral illustrations. These delicate designs will evoke the feeling of strolling through a garden in full bloom. Consider opting for high-quality cardstock with a matte finish to give the invitations an elegant touch.
You can find beautiful floral invitations on Beeshower, which come with matching envelopes for an added touch of sophistication.
How to Download
What you need to do is click (left-click) the preview image.
You should see a new page popped-up in your display, then you need to "right-click" the image and select "Save image as"
Locate the destination folder, or just leave it as it is. Then "Enter" to start the download process.
Please note this, all files/materials have been included in that package, so once it's finished, you are able to customize it right away.
DIY Floral Invitations
If you're feeling crafty, crafting your own invitations adds a personal touch. Start with heavyweight paper in a soft pastel shade that complements your theme. Use rubber stamps with floral motifs to create unique designs.
Add a touch of luxury with embossed details or vellum overlays. Be sure to include all the essential information neatly, such as the date, time, location, and RSVP instructions, using elegant fonts that match the overall theme.
Tablescapes & Decorations
Transforming your venue into a floral garden requires meticulous attention to detail in your tablescapes and decorations. Let's delve into the enchanting world of floral decor.
Floral Centerpieces
Elevate your tables with exquisite floral centerpieces. Consider a mix of fresh and silk flowers for versatility and longevity.
Arrange these blooms in mason jars or vintage-style vases for a rustic touch. Incorporate a variety of flowers, such as roses, peonies, and baby's breath, to create a stunning visual contrast.
Add a sprinkling of delicate greenery to complete the garden look. For fresh flowers, make sure to keep them hydrated by placing floral foam inside the vases.
Floral Garland
To infuse your venue with a whimsical garden atmosphere, string faux flower garlands along walls or tables. Opt for garlands with lifelike petals, leaves, and vines to add texture and depth to your decor.
You can find these garlands in various lengths to suit your space. Drape them gracefully along banisters, across the entrance, or as table runners to bring a sense of enchantment to the surroundings.
Pastel Color Palette
A cohesive color palette is crucial to achieving a harmonious look. Stick to soft pastel shades like blush pink, lavender, and mint green. Use these colors for tablecloths, napkins, and balloons.
Layering different hues within this palette will add depth and dimension to your decor. Consider using pastel satin table runners to add a touch of elegance to your tablescape.
Garden Signage
Incorporate charming garden-inspired signage throughout the venue to guide guests and enhance the theme. Create signs with whimsical sayings like "Bloom Where You're Planted" or "Welcome to Our Little Garden."
Use decorative frames or chalkboards to display these signs. You can also incorporate floral motifs in the signage design to tie them seamlessly into the overall theme.
Delicious Floral Treats
When it comes to treating your guests' taste buds, think beyond just delicious and aim for visually stunning floral-inspired treats that will leave a lasting impression.
Floral Cupcakes
Elevate your dessert table with cupcakes that double as edible art. Decorate each cupcake with edible flowers or floral-themed cupcake toppers. For a touch of elegance, choose cupcakes with a light buttercream frosting in pastel shades.
You can find edible flower decorations in specialty baking stores or online. These cupcakes will not only taste delightful but also serve as a captivating focal point on your dessert table.
Petit Fours
Add a touch of refinement with petit fours featuring intricate floral icing designs. These bite-sized treats are perfect for guests to savor while mingling.
Choose a variety of flavors and colors to create a visually appealing display. To achieve the floral icing designs, consider using edible food coloring pens or precision piping tips. Each petit four becomes a miniature work of art that enhances your dessert selection.
Fruit Salad
Offer a refreshing and healthy option with a fruit salad that incorporates edible flowers. Select fruits like strawberries, kiwis, and blueberries for their vibrant colors.
Edible flowers like pansies, violets, and nasturtiums not only add a pop of color but also a mild, floral flavor.
Gently toss the fruits and edible flowers together for a visually appealing and delicious fruit salad. Serve it in clear glass bowls or cups to showcase its beauty.
Floral-Infused Beverages
Quench your guests' thirst with floral-inspired beverages that are as delightful to look at as they are to sip.
Consider offering options like lavender lemonade, hibiscus iced tea, or rosewater-infused sparkling water. Present these beverages in glass pitchers or vintage-style bottles adorned with fresh edible flowers.
Garnish each drink with a thin lemon or cucumber slice for an extra touch of elegance. These floral-infused drinks will complement your dessert spread beautifully.
Floral-Themed Games & Activities
Entertainment is a key aspect of any successful baby shower, and for a Floral Garden Themed Baby Shower, you can incorporate garden-inspired games and activities that will delight your guests and keep them engaged.
Floral Crown Station
Allow your guests to tap into their creative side by setting up a DIY floral crown station. Provide an array of faux flowers, greenery, ribbons, and floral wire for crafting. Offer a variety of flower types, from delicate daisies to elegant roses.
Guests can design their unique floral crowns, which can double as party favors or accessories for the event. Be sure to include instructions and examples to inspire creativity.
Garden Scavenger Hunt
Create a sense of adventure with a garden-themed scavenger hunt. Compile a list of items related to a garden, such as miniature garden tools, plastic insects, or hidden treats.
Provide participants with a time limit and set them on a quest to find and collect these items.
The team or individual who completes the hunt first or finds the most items wins a prize. This game encourages exploration and adds an element of excitement to your baby shower.
Wishing Tree
Foster a sense of community and well-wishing by incorporating a wishing tree activity. Set up a beautiful tree display, either real or artificial, and decorate it with small ornaments or branches.
Provide guests with paper flower ornaments and markers to write their heartfelt wishes, advice, or blessings for the parents-to-be.
They can then hang these paper flowers on the tree, creating a stunning and meaningful centerpiece. The parents-to-be can later take home the wishes as keepsakes.
Guess the Baby's Birthdate
Engage your guests in some friendly competition with a "Guess the Baby's Birthdate" game. Provide a calendar or poster with the due date prominently marked.
Ask guests to write their name on the date they believe the baby will be born. You can even include a time of birth for added excitement.
When the baby arrives, you'll have a ready-made pool of predictions. The guest whose guess is closest to the actual birthdate and time can receive a special prize. This game adds an element of anticipation and joy to the celebration.
Floral Party Favors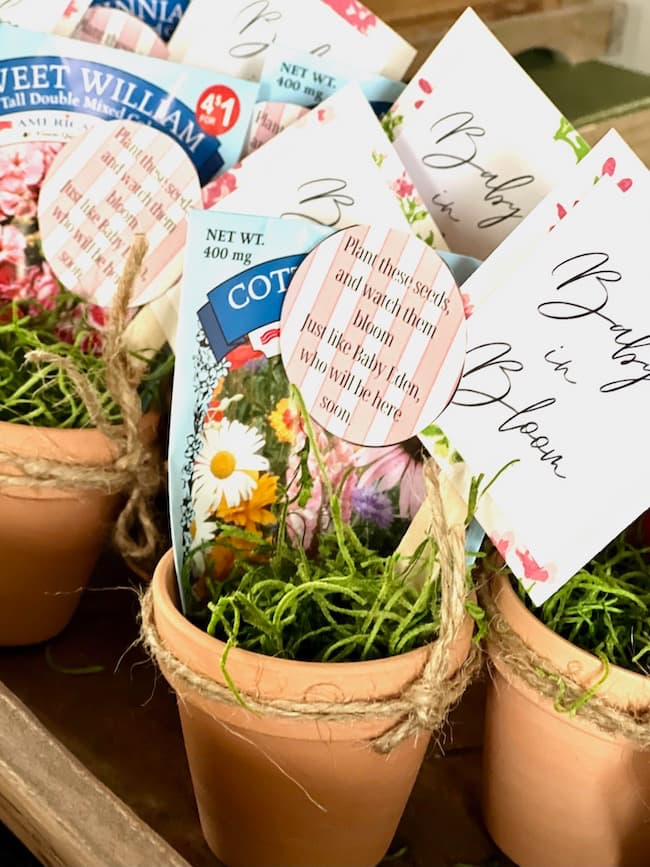 Sending your guests home with thoughtful party favors is a wonderful way to express your gratitude for their presence. Ensure that your floral-themed party favors are both beautiful and meaningful.
Seed Packets
Encourage growth and prosperity with flower or herb seed packets as party favors. Attach a tag with a message like "Watch Love Grow" or "Blossom with Us."
Select seeds that are easy to plant and maintain, such as sunflowers or basil. Place the seed packets in elegant organza bags or small tin containers adorned with floral motifs. Your guests will appreciate these favors as a symbol of the new life about to bloom.
Mini Succulents
Send your guests home with a charming mini succulent plant in a decorative container. Succulents are low-maintenance and symbolize endurance and strength, making them perfect for celebrating a new life.
Add a personalized tag with a heartfelt message to make each favor even more special. These mini succulents can be displayed on windowsills or desks, serving as a lasting reminder of the beautiful baby shower.
Floral Scented Candles
Infuse the essence of a garden into your party favors with floral-scented candles. Choose candles in scents like lavender, rose, or jasmine, reminiscent of blooming flowers. Package these candles in delicate glass jars or decorative tins adorned with floral patterns.
As your guests light these candles, they'll be transported back to the fragrant garden-themed celebration, creating a sensory connection to the event.
Conclusion
By paying attention to the intricate details of invitations, decorations, treats, games, and party favors, you'll craft a Floral Garden Themed Baby Shower that will leave your guests enchanted and delighted.
Every element of the celebration will come together to create a blooming masterpiece, and your guests will carry fond memories of this special event for years to come. Happy planning!