Hosting a baby shower is an exciting and heartwarming way to celebrate the upcoming arrival of a little one. To make this occasion even more special, consider planning a Farm Animals Themed Baby Shower.
With a touch of rustic charm and a menagerie of adorable farm animals, you can create a memorable and delightful atmosphere for the parents-to-be and guests.
In this guide, we'll dive into the details of how to organize every aspect of your Farm Animals Themed Baby Shower, from invitations to decorations, games, and favors.
Farmyard Invitations
Invitations set the tone for any event, and for your Farm Animals Themed Baby Shower, they should evoke the warmth and charm of a countryside farm.
Consider using invitations adorned with cute farm animal illustrations such as cows, pigs, and chickens. These illustrations instantly convey the theme and set expectations for the celebration.
You can add a rustic touch by incorporating burlap textures or checkered patterns into the design.
How to Download
What you need to do is click (left-click) the preview image.
You should see a new page popped-up in your display, then you need to "right-click" the image and select "Save image as"
Locate the destination folder, or just leave it as it is. Then "Enter" to start the download process.
Please note this, all files/materials have been included in that package, so once it's finished, you are able to customize it right away.
Whether you choose to purchase pre-made invitations or create custom ones, ensure they align with the overall farm theme and convey all the essential details, such as the date, time, location, and RSVP information.
Barnyard Delights
Delicious food is a cornerstone of any successful baby shower, and for a Farm Animals Themed Baby Shower, the menu can be both delightful and on-theme.
One showstopper is the Barnyard Cake, a centerpiece adorned with fondant farm animals that bring the theme to life. You can opt for a multi-tiered cake designed in the shape of a barn or a simpler sheet cake adorned with these charming edible farm creatures.
To complement the cake, offer animal-shaped cookies, such as cows, sheep, and ducks. Decorate these cookies with colorful icing to make them irresistible treats that tie into the theme.
For a healthy option, serve a platter of farm-fresh fruits like apple slices and berries. These colorful and delicious offerings add a touch of wholesomeness to your menu.
Additionally, consider serving haystack snacks, a delightful combination of chow mein noodles and chocolate that resembles mini haystacks. These treats will be a hit among guests and reinforce the farm theme with their appearance and taste.
Decor Galore
Creating a farm-inspired atmosphere is essential for your Farm Animals Themed Baby Shower, and decorations play a pivotal role in achieving this ambiance.
Begin by incorporating bales of straw into your decor. Stack them strategically to provide rustic seating options or use them as decorative elements throughout the venue. Farm animal balloons can add a playful touch to the decorations.
Hang colorful balloons featuring cows, pigs, and other barnyard favorites around the party space. Mason jars filled with wildflowers make for charming centerpieces that capture the essence of a country farm. These rustic and cheerful floral arrangements can be placed on tables to create an inviting atmosphere.
To set the scene, consider crafting a barn door backdrop using red and white checkered tablecloths. This backdrop can serve as a backdrop for photos and instantly transport guests to a farm setting.
Furthermore, wooden signage labeled with whimsical farm-themed messages can be placed around the venue, designating different areas such as the gift table, food station, and games. These signs enhance the overall decor and help guide guests throughout the event.
Farm Animal Costumes
Encourage guests to actively participate in the farm theme by dressing up in farm animal costumes or country-style attire. This adds an element of whimsy to the party and allows everyone to immerse themselves fully in the theme.
Consider hosting a "Best Farm Animal Costume" contest to spark enthusiasm among guests. This contest can be a fun and lighthearted activity that adds an element of competition and excitement to the celebration.
Whether guests choose to dress up as cows, chickens, or even scarecrows, their participation will contribute to the festive atmosphere.
Baby Animal Bingo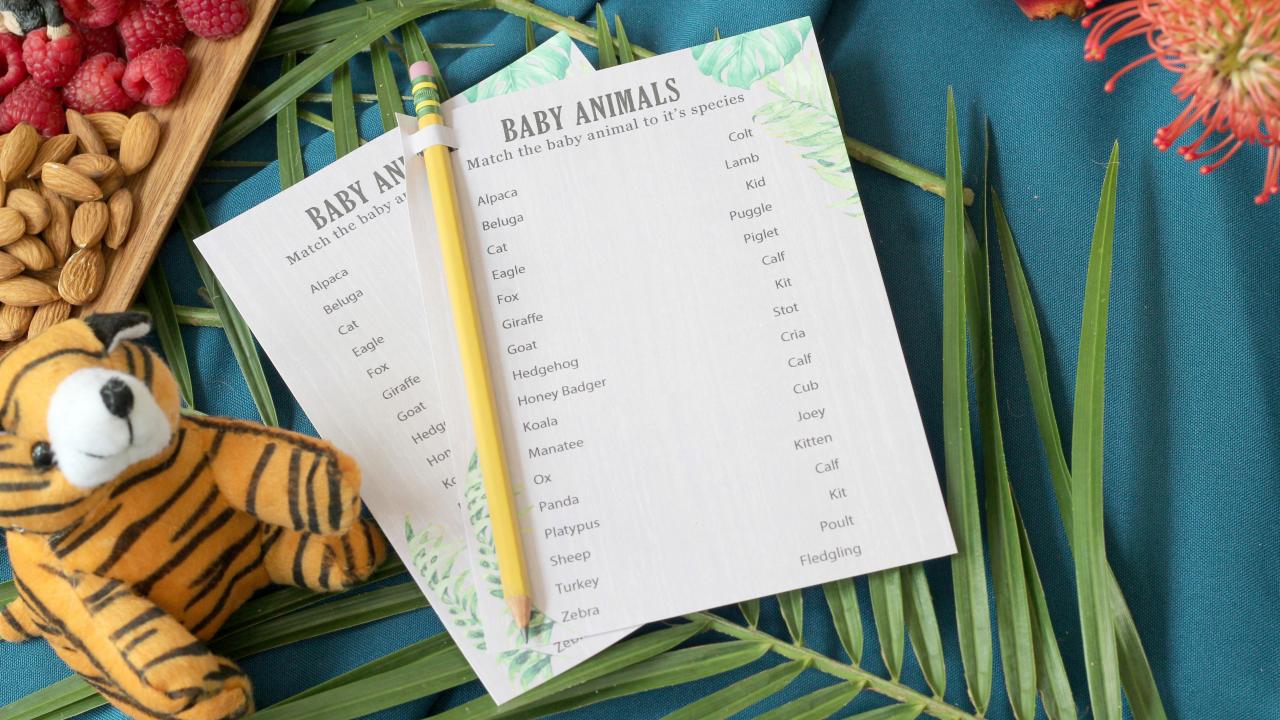 Games are a key component of any baby shower, and for your Farm Animals Themed Baby Shower, Baby Animal Bingo is a fantastic choice that aligns perfectly with the theme.
Create bingo cards with squares filled with names of baby animals like calf, chick, or piglet instead of the traditional numbers. Distribute these cards to your guests, along with markers or stickers for marking off the called animals.
As the shower progresses, call out the baby animal names, and guests mark off the corresponding squares on their bingo cards.
The first guest to complete a row shouts "Bingo!" and wins a prize. Baby Animal Bingo adds an element of fun and interaction to your celebration while tying in seamlessly with the farm theme.
Farmyard Favors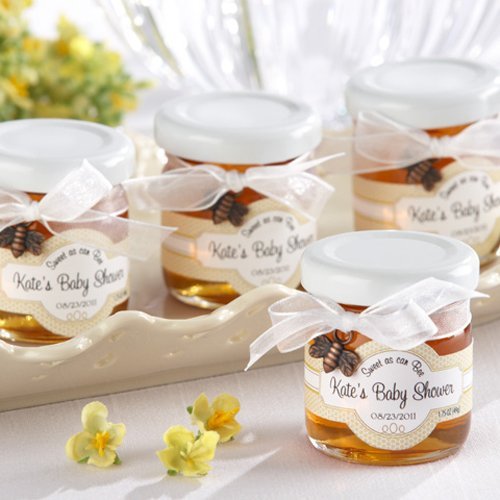 Show your appreciation to guests with farm-themed party favors that reflect the charm of your Farm Animals Themed Baby Shower. These thoughtful tokens of gratitude will leave a lasting impression:
Mini Succulents
Consider gifting potted succulents in tiny galvanized buckets. These plants not only serve as adorable decorations but also provide guests with a lasting reminder of your special day. Succulents are easy to care for and make for meaningful favors that can thrive long after the celebration ends.
Farm Animal Keychains
Attach small farm animal keychains to thank-you cards or favor bags. These keychains are a cute and practical gift that guests can carry with them as a memento of the party.
Farm-themed Candles
Enhance the farm ambiance by giving out candles in the shape of barns or farm animals. These charming candles can be a delightful addition to guests' homes and serve as a reminder of the wonderful time they had at your baby shower.
Gifts for the Little Farmer
If you're in search of the perfect baby shower gift for the parents-to-be, consider selecting something that aligns with the farm theme. This thoughtful gesture demonstrates your attention to detail and adds an extra layer of charm to the occasion.
For example, you might choose to gift a cozy farm animal-themed baby blanket or a set of farmyard-themed baby clothes. These items are not only adorable but also practical, ensuring the parents-to-be receive gifts that are both heartwarming and useful.
By selecting farm-themed baby gifts, you contribute to the overall theme of the baby shower while making a meaningful gesture towards the growing family.
Farmyard Playlist
Music sets the mood for any gathering, and for your Farm Animals Themed Baby Shower, a carefully curated playlist can enhance the farm-inspired atmosphere. Select songs that evoke feelings of rural charm and country living.
Classic tunes from artists like Johnny Cash, Willie Nelson, and John Denver are excellent choices to create a relaxed and farm-themed ambiance. These songs often feature lyrics that celebrate the beauty of the countryside and the simple joys of farm life.
As your guests enjoy these melodies, they'll be transported to a world filled with rolling hills, friendly farm animals, and the tranquility of rural living. The playlist serves as an auditory backdrop that complements the visual and thematic elements of your baby shower, ensuring a harmonious and immersive experience for all in attendance.
A Day on the Farm Photo Booth
Photo booths have become a popular addition to parties and gatherings, and for your Farm Animals Themed Baby Shower, a "Day on the Farm" photo booth can be a delightful and interactive element.
Create a designated area with farm-themed props like straw hats, pitchforks, toy farm animals, and rustic signage. Encourage guests to take fun and memorable photos in this themed setting.
The photo booth offers a creative and entertaining activity that allows guests to capture precious moments from the baby shower. It's a fantastic way to ensure that memories are preserved in a lighthearted and enjoyable manner.
As guests don farm-style hats, hold toy pitchforks, and pose with whimsical props like stuffed animals or even a rustic wooden farm gate, they'll create snapshots that reflect the joy and spirit of the event.
Consider providing a backdrop that features a scenic farm landscape or a barn setting to transport guests into a charming rural scene.
Additionally, having a selection of farm-themed photo booth props like cow-printed scarves, straw hats adorned with flowers, or even an oversized foam cow head can add an extra layer of hilarity to the photo-taking experience.
Ensure that the photo booth area is well-lit, with a camera or smartphone on hand for guests to take their pictures. After the baby shower, you can share these photos with the parents-to-be and guests as a delightful reminder of the celebration.
The Little Farmer's Corner
It's essential to consider the youngest attendees at your Farm Animals Themed Baby Shower. To keep children entertained and engaged, create a designated area known as "The Little Farmer's Corner."
This space is tailored to the interests and needs of children, ensuring they have a memorable and enjoyable experience at the party. Here's how to make "The Little Farmer's Corner" a hit:
Farm-Themed Coloring Books
Provide farm-themed coloring books and sets of crayons to keep kids creatively occupied. Farm animal coloring pages, barnyard scenes, and countryside landscapes are excellent choices to align with the theme.
Small Farm Animal Toys
Offer small toy farm animals that children can play with. These toys can be set up in miniature farm scenes, allowing kids to engage in imaginative play and create their farm adventures.
Farmyard Storytime
Arrange a cozy reading nook with a selection of farm-themed children's books. Reading aloud farm animal stories or tales of rural life can captivate young imaginations and provide a moment of restful entertainment.
"The Little Farmer's Corner" ensures that the youngest guests feel included and have activities tailored to their interests. It allows parents and caregivers to relax and enjoy the baby shower while knowing their children are engaged and having fun.
In Conclusion
By following these detailed Farm Animals Themed Baby Shower Party Ideas, you can create a charming and unforgettable celebration for the parents-to-be and their guests.
From the farm-inspired invitations that set the stage to the delightful decorations, tasty treats, entertaining games, and thoughtful favors, every aspect of your baby shower will reflect the warmth and charm of the countryside.
The farm theme brings a unique and heartwarming atmosphere to the event, making it a day to remember for everyone involved.
Capture the precious moments, cherish the memories, and revel in the joy of welcoming a new little one into the world. Congratulations to the parents-to-be, and may your Farm Animals Themed Baby Shower be a resounding success!