Planning a baby shower is an exciting endeavor, and choosing the right theme can set the tone for the entire celebration. If you're searching for a theme that combines charm and versatility, look no further than a Cute Bunny Themed Baby Shower.
Bunnies are universally adored, making them a perfect choice for welcoming a new addition to the family. In this comprehensive guide, we will delve into a variety of ideas and suggestions to help you host a bunny-themed baby shower that will leave your guests delighted and the mom-to-be overjoyed.
Crafting the Perfect Bunny-Themed Invitations
Creating the perfect bunny-themed baby shower begins with crafting invitations that not only invite but also enchant your guests. These invitations set the tone for the entire event, giving your loved ones a sneak peek into the bunny wonderland they're about to enter.
Design and Colors
When designing your invitations, opt for soft pastel colors like pink, blue, or yellow as the background. These colors evoke a sense of innocence and are reminiscent of baby nurseries.
Incorporate charming bunny illustrations or graphics into the design to emphasize the theme. The combination of pastels and bunnies instantly conveys the sweet and endearing nature of the event.
Tagline and Message
Add a catchy tagline to your invitations, such as "Hop on Over for Baby's Arrival!" or "Bouncing into Parenthood." This playful wording not only informs guests of the theme but also adds an element of fun and anticipation. Include essential details like the date, time, location, and RSVP information clearly and legibly.
Customization
Personalization goes a long way in making your invitations stand out. Consider customizing the invitations with the mom-to-be's name or the baby's name if it's already chosen. This small touch adds a heartfelt element to the invites.
How to Download
What you need to do is click (left-click) the preview image.
You should see a new page popped-up in your display, then you need to "right-click" the image and select "Save image as"
Locate the destination folder, or just leave it as it is. Then "Enter" to start the download process.
Please note this, all files/materials have been included in that package, so once it's finished, you are able to customize it right away.
DIY vs. Purchased
You have the option to either purchase pre-designed bunny-themed invitations online or get creative and make your own. Online design tools and templates can assist you in crafting unique and personalized invitations that perfectly match your vision for the baby shower.
By paying attention to these invitation details, you'll ensure that your guests receive a warm and inviting introduction to your bunny-themed baby shower.
Party Decorations
To create a whimsical and enchanting atmosphere for your bunny-themed baby shower, thoughtful decorations are key. From bunny balloons to table centerpieces, every detail contributes to the overall ambiance.
Transforming your chosen venue into a bunny wonderland is where the magic of your baby shower truly begins. Bunny-themed decorations, when carefully selected and arranged, will transport your guests into a world of fluffy charm and delight.
Bunny Balloons
Bunny-shaped balloons are a delightful addition to your decorations. They come in various sizes and can be strategically placed around the venue. Consider using helium-filled bunny balloons to create floating bunny clusters that add an element of whimsy to the space.
Bunny Banners
Hang bunny-themed banners that feature phrases like "Welcome Little Bunny" or "Some Bunny Special is on the Way." These banners not only greet your guests but also serve as charming backdrops for photos and memories.
Bunny Table Centerpieces
Elevate your table settings with bunny-themed centerpieces. Place bunny figurines or adorable stuffed bunnies as the focal point. To add an elegant touch, surround these bunnies with fresh flowers or greenery that complements your color scheme.
Bunny Footprints
Create a sense of wonder by adding bunny footprints leading from the entrance to the party area. You can use washable chalk or removable stickers to craft these footprints. As guests follow the bunny trail, they'll be immersed in the playful theme.
Bunny-Themed Tableware
Enhance the overall decor by using bunny-themed tableware. Choose plates, napkins, cups, and tablecloths adorned with cute bunny illustrations. These matching elements tie the entire theme together and add a cohesive touch to your tablescape.
By focusing on these decoration details, you'll succeed in creating an enchanting bunny wonderland for your baby shower that will leave your guests in awe.
Food and Treats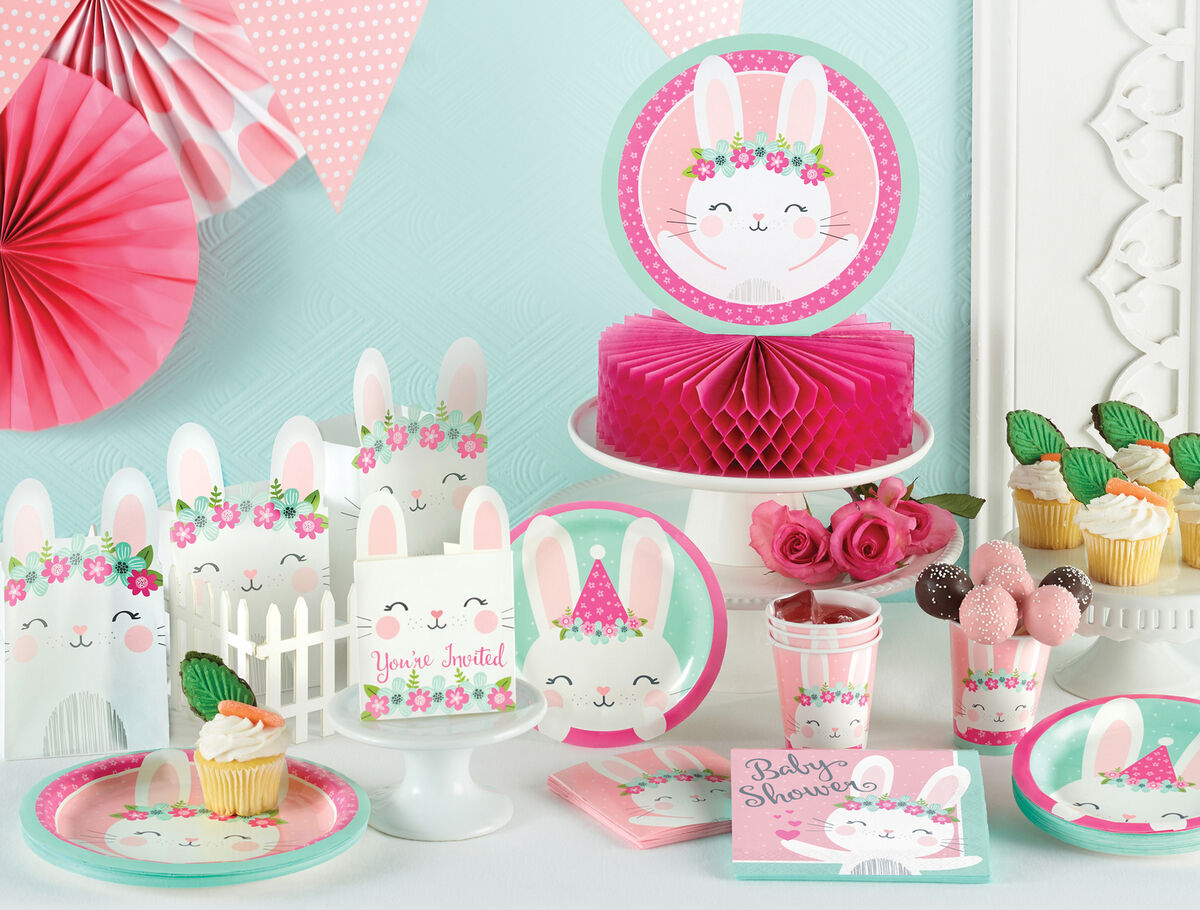 No baby shower is complete without delicious treats and refreshments that align with the chosen theme. When hosting a Cute Bunny Themed Baby Shower, you have the opportunity to get creative with your culinary offerings.
Elevate the culinary experience at your bunny-themed baby shower by serving delightful bunny-inspired treats and refreshments. These edible creations not only tantalize taste buds but also add an extra layer of charm to your event.
Bunny-Shaped Cookies
Bunny-shaped cookies are a sweet addition to your dessert table. You can either bake them yourself or order custom-made cookies from a bakery. Use bunny-shaped cookie cutters to achieve the perfect bunny outline. Decorate these cookies with pastel-colored icing, edible glitter, and tiny sugar bunny tails for an extra dose of cuteness.
Carrot Crudité Platter
Create a visually appealing vegetable platter that resembles a carrot patch. Arrange baby carrots in rows to mimic carrots in the ground. Add a small bowl of your favorite dip at the top, representing the carrot's greenery. This healthy and thematic option is sure to please both adults and kids.
Bunny Cupcakes
Elevate classic cupcakes by turning them into bunny masterpieces. Top each cupcake with bunny ear toppers made from fondant or edible paper. For fluffy tails, consider using cotton candy. These cupcakes not only taste heavenly but also serve as adorable edible decorations.
Bunny-Themed Cake
Make the dessert table the centerpiece of your event by featuring a bunny-themed cake. You can either opt for a cake shaped like a bunny or one adorned with intricate bunny motifs. The cake can be customized to match your color scheme, and it will undoubtedly leave a lasting impression.
Fruit Bunny Salad
Create a fruit salad in the shape of a bunny. Use a large platter or tray as the canvas and arrange various fruits like strawberries, blueberries, and melon to form the bunny's face and ears. Consider adding chocolate chips for the eyes and a raspberry for the nose. This healthy option adds a refreshing touch to your menu.
By incorporating these bunny-inspired culinary creations into your baby shower, you'll not only satisfy your guests' appetites but also enhance the overall theme and atmosphere of the event. These treats will be both delicious and Instagram-worthy.
Games and Activities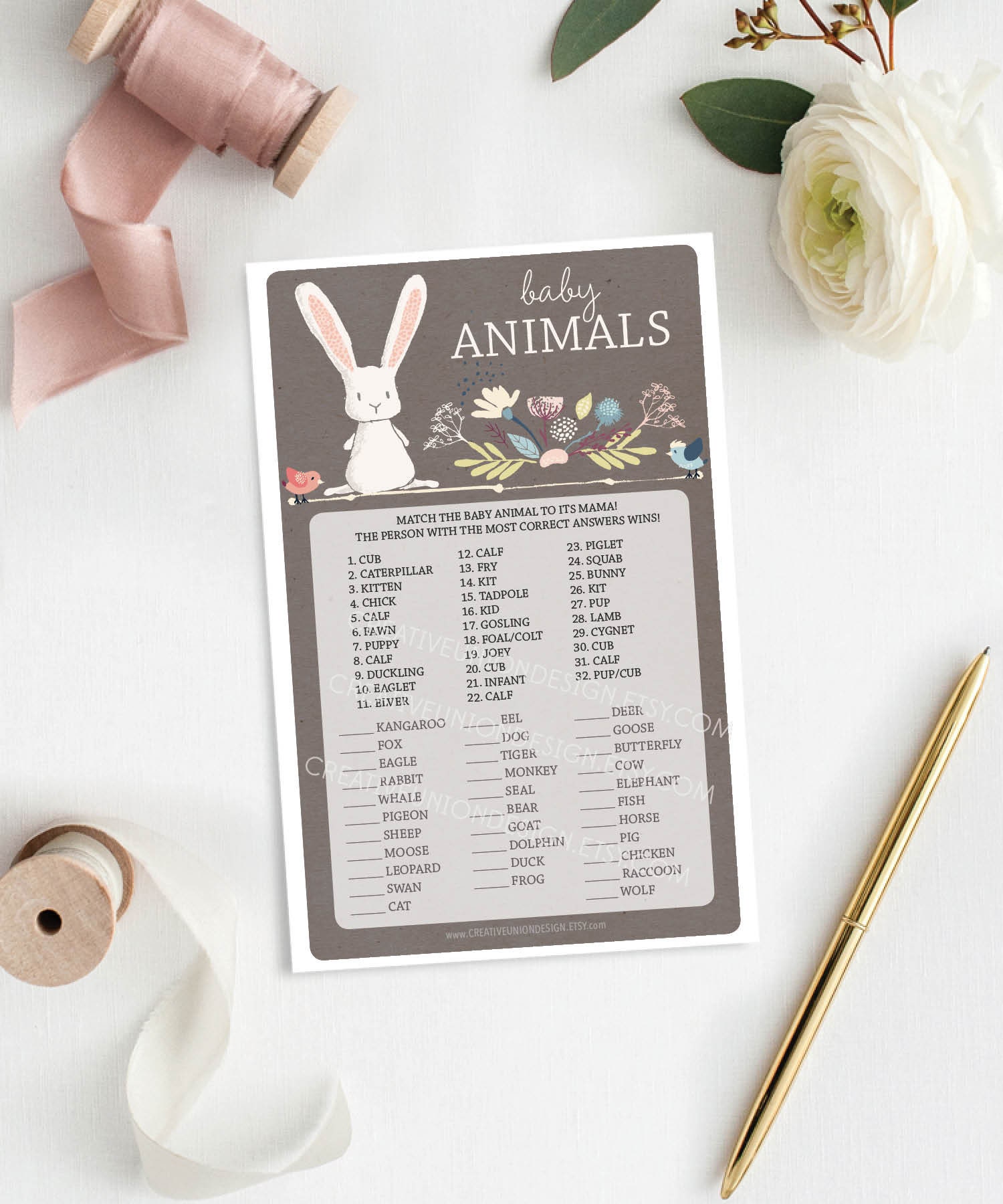 To keep your guests entertained and engaged throughout the baby shower, consider including bunny-themed games and activities that are both fun and aligned with the theme.
Elevate the entertainment factor at your bunny-themed baby shower with a selection of bunny-inspired games and activities. These interactive elements will not only amuse your guests but also create lasting memories for everyone involved.
Guess the Baby's Birth Date
Engage your guests by having them predict the baby's birth date and time. Provide small notecards or slips of paper for guests to write down their guesses. Keep a large calendar or poster where these predictions can be displayed. After the baby's arrival, the guest whose guess is closest to the actual birth date can receive a special prize.
Bunny Bingo
Create customized bingo cards featuring various bunny-related images or themes. Play a few rounds of bingo during the baby shower, with small prizes for the winners. Bingo adds an element of competition and excitement to the event.
Decorate Onesies
Set up a crafting station where guests can tap into their creative side by decorating plain onesies with bunny-themed designs. Provide fabric markers, iron-on transfers, and a variety of bunny templates. These personalized onesies can serve as meaningful keepsakes for the mom-to-be.
Baby Bunny Photo Booth
Designate a corner for a photo booth complete with bunny-themed props. Offer guests bunny ears, noses, fluffy tails, and other whimsical accessories. As they take pictures, they'll create cherished memories and have the opportunity to capture the joy of the day.
Party Favors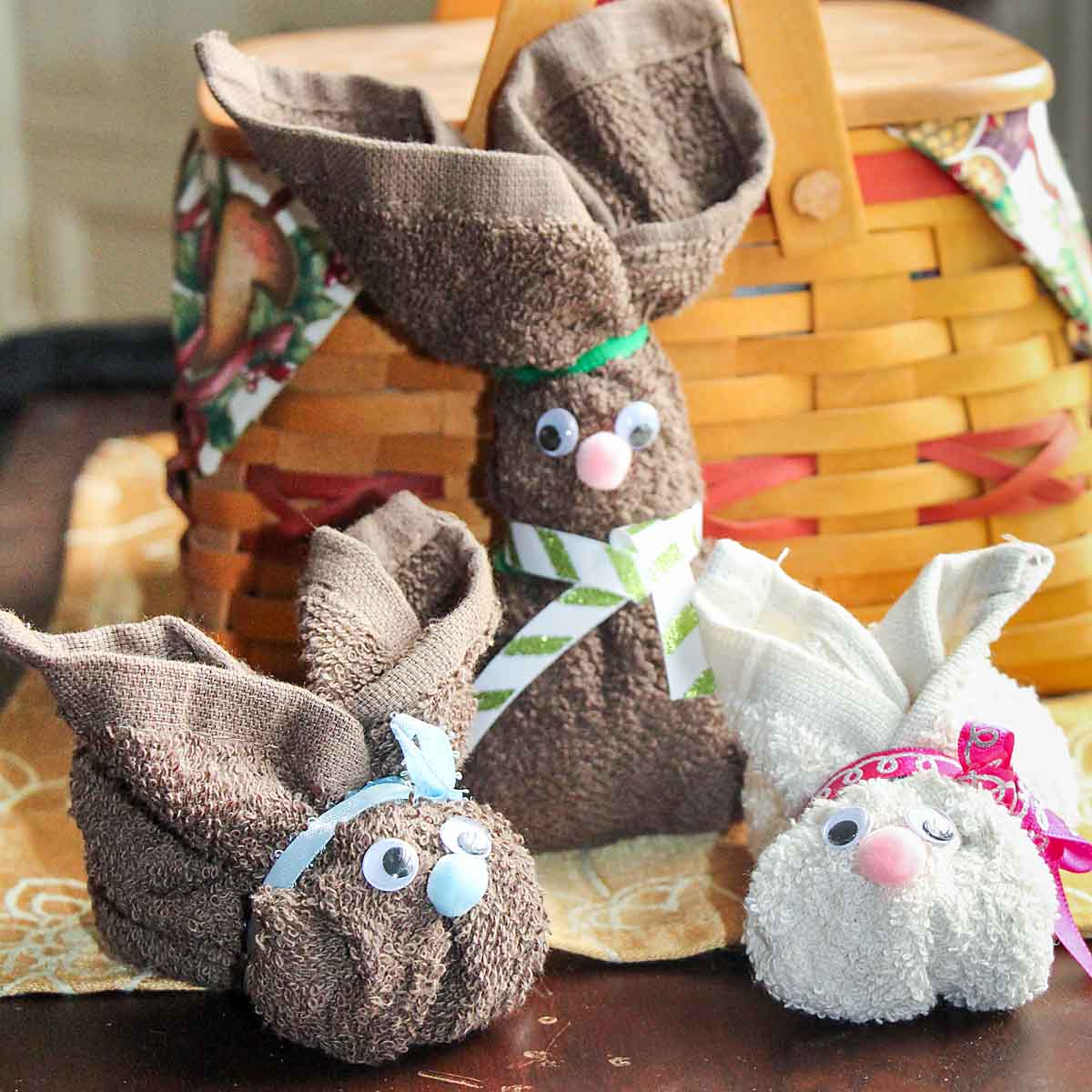 Express your appreciation to your baby shower guests with charming bunny-themed party favors. These thoughtful tokens not only convey your gratitude but also extend the enchantment of the theme, allowing your guests to carry a piece of the bunny wonderland home with them.
Bunny-Themed Keychains
Consider personalized bunny-themed keychains as party favors. These small yet practical items can be customized with the event date or a special message. They serve as delightful keepsakes that guests can use daily.
Bunny-Printed Tote Bags
Tote bags featuring adorable bunny illustrations are both functional and stylish as party favors. Fill these bags with additional goodies or leave them empty for guests to use as they please. The bunny print adds a touch of whimsy to an everyday accessory.
Bunny Lip Balm
Opt for bunny-shaped lip balm containers as party favors. These cute and useful items are available in various flavors and scents. They can easily fit into pockets or purses, ensuring your guests have a handy memento from the baby shower.
Gifts for the Mom-to-Be
In addition to the joyous celebration of the baby on the way, it's essential to honor the mom-to-be with heartfelt gifts that incorporate the bunny theme. These gifts serve as tokens of support and love during this special time.
Bunny Diaper Bag
Consider gifting the mom-to-be a stylish diaper bag adorned with bunny patterns or motifs. Practical and charming, a bunny-themed diaper bag combines functionality with aesthetics, allowing the mom to carry baby essentials in style.
Bunny Baby Blankets
Soft and cozy baby blankets featuring bunny patterns are a wonderful gift choice. These blankets provide warmth and comfort to the newborn while adding an adorable touch to the nursery. Look for blankets made from high-quality materials for ultimate coziness.
Soft Bunny Plushie
A plush bunny toy makes an ideal gift for the little one. Choose a soft and huggable bunny plushie that the baby can cuddle with. These timeless toys often become cherished companions for children as they grow.
Conclusion
With this comprehensive guide to hosting a Cute Bunny Themed Baby Shower, you have all the details you need to create a whimsical and enchanting celebration that will be cherished by the mom-to-be and her loved ones.
From the carefully crafted invitations that set the tone to the delightful bunny-themed decorations that transform your venue into a wonderland, every aspect of the baby shower is covered with attention to detail.