Are you eager to host a Bohemian Chic-themed baby shower that not only celebrates the impending arrival but also immerses your guests in a world of nature-inspired, free-spirited charm?
This guide will walk you through detailed ideas, tips, and product recommendations to create a Boho-inspired baby shower that will leave a lasting impression.
Invitations That Set the Boho Tone
The first step in setting the perfect Bohemian Chic ambiance for your baby shower is choosing the right invitations.
Start by selecting invitations that embody the Boho spirit. Opt for earthy tones like terracotta, sage green, or dusty rose, and incorporate floral patterns or dreamy watercolor illustrations.
To align with the eco-conscious aspect of Boho, consider using recycled or eco-friendly paper for printed invitations.
Alternatively, digital invitations with Bohemian-themed designs can be sent via platforms like Beeshower or Drevio. These choices set the tone and build anticipation for your nature-inspired event.
How to Download
What you need to do is click (left-click) the preview image.
You should see a new page popped-up in your display, then you need to "right-click" the image and select "Save image as"
Locate the destination folder, or just leave it as it is. Then "Enter" to start the download process.
Please note this, all files/materials have been included in that package, so once it's finished, you are able to customize it right away.
Boho Decorations for an Enchanting Atmosphere
Creating a captivating Bohemian atmosphere is key to the success of your baby shower. Here's how to achieve it with detailed decorations:
Dreamcatchers
Hang an assortment of dreamcatchers throughout the venue. These intricate, handcrafted pieces not only add a mystical touch but also serve as charming decorations.
Consider having a DIY dreamcatcher station where guests can create their own to take home as party favors.
Flower Crowns
Elevate the Boho vibe by providing flower crowns for your guests to wear. These floral adornments not only enhance the ambiance but also double as fantastic photo props, adding to the overall experience.
Tapestry Backdrop
Set the stage for picturesque moments with a Boho-inspired tapestry backdrop. Look for tapestries adorned with intricate patterns, mandalas, or nature-inspired motifs.
Place this backdrop strategically for stunning photo opportunities and as a visually captivating focal point.
Mismatched Seating
Create a relaxed and inviting atmosphere by mixing and matching seating options. Incorporate vintage chairs, floor cushions, poufs, and blankets.
This diverse seating arrangement encourages guests to lounge comfortably, reinforcing the Bohemian spirit of freedom and comfort.
Mason Jar Centerpieces
For rustic, Boho-inspired centerpieces, repurpose mason jars. Fill them with an assortment of wildflowers, baby's breath, or eucalyptus branches. These natural and simple arrangements add a touch of charm to your tables while staying true to the Boho theme.
Bohemian-Inspired Food and Drinks
The Bohemian Chic baby shower experience extends to the culinary delights you offer. Here are detailed ideas for creating a memorable menu:
Boho Grazing Table
Craft a Boho-inspired grazing table that features an array of cheeses, seasonal fruits, nuts, artisanal bread, and dips.
The idea is to present a spread that reflects the rustic and communal nature of Bohemian gatherings. Incorporate wooden boards, woven baskets, and earthy serving platters for a visually pleasing setup.
Herbal Tea Bar
Embrace the Bohemian love for herbal remedies by setting up a herbal tea bar. Offer a selection of herbal teas and infusions, such as chamomile, lavender, and mint.
Present them in mismatched vintage teacups, complete with honey, lemon slices, and cinnamon sticks. This not only satisfies the senses but also adds a soothing and aromatic touch to your event.
Wildflower Cake
Elevate your dessert game with a Bohemian-inspired wildflower cake. Collaborate with a skilled baker to design a cake adorned with edible wildflowers.
The cake becomes both a visual centerpiece and a delightful treat, embodying the essence of nature and beauty.
Dress Code: Boho-Chic Attire
Encourage your guests to fully immerse themselves in the Boho spirit with detailed dress code suggestions. By doing so, you ensure that the ambiance is enhanced by the attire:
Flowy Maxi Dresses
Suggest that female guests wear flowy maxi dresses with floral prints or earthy tones. These dresses capture the free-spirited and natural essence of Bohemian style.
Floral Headbands
Encourage guests to adorn their hair with floral headbands or crowns. These whimsical accessories not only complete their Boho-chic look but also serve as charming photo props.
Accessories Galore
Emphasize the importance of accessories such as layered necklaces, bangles, and beaded bracelets. These intricate details add depth to the Bohemian look, allowing guests to express their individuality.
Boho Baby Shower Games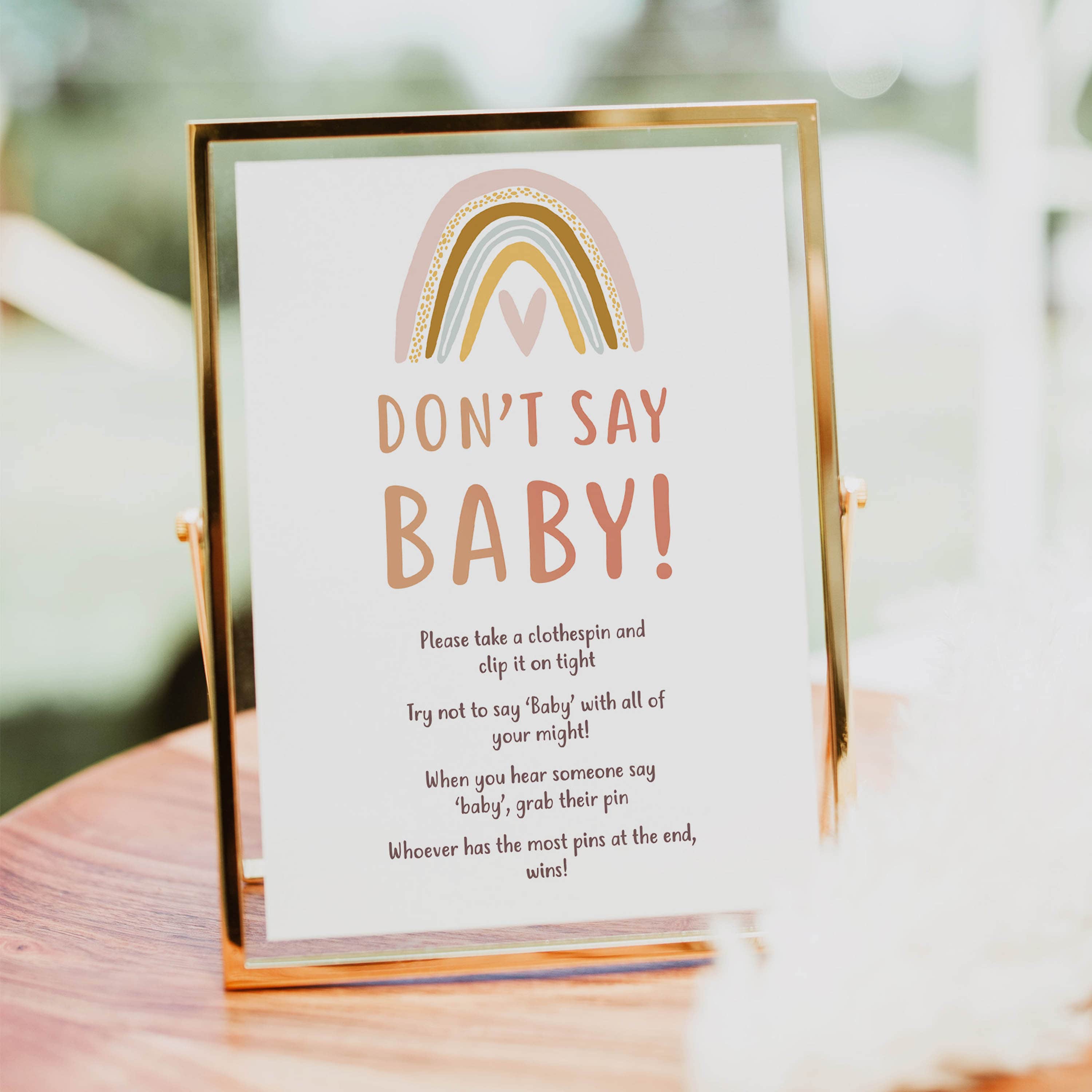 Engage your guests with games that resonate with the Bohemian theme:
Feather and Dreamcatcher Ring Toss
Craft a feather and dreamcatcher-themed ring toss game. Guests can take turns tossing feather-shaped rings onto dreamcatcher targets.
This interactive game blends seamlessly with the Boho atmosphere and offers entertainment with a touch of whimsy.
Boho Baby Bingo
Customize bingo cards with Bohemian-related items instead of numbers. Guests mark off items like "feather," "wildflower," or "dreamcatcher" as they spot them during the party. This game encourages guests to immerse themselves in the Boho decor and surroundings.
Party Favors with a Boho Twist
Show your appreciation to your guests with party favors that align with the Bohemian theme. Here are detailed suggestions:
Succulents
Offer mini succulents in decorative pots as party favors. These resilient plants symbolize growth and endurance, making them a meaningful and nature-inspired gift.
Essential Oils
Provide guests with small vials of essential oils with calming and soothing scents. Lavender, eucalyptus, or frankincense oils offer relaxation and serenity, aligning with the Bohemian love for holistic wellness.
Product Recommendations
Here are Amazon product recommendations to help you bring your Bohemian Chic-themed baby shower vision to life with detailed options:
Boho Dreamcatchers: Explore a variety of handcrafted dreamcatchers to match your decor style, from large wall hangings to smaller, intricate designs.
Flower Crowns: Discover a selection of flower crowns in various colors and styles, ensuring that your guests have options to choose from.
Tapestry: Browse Bohemian tapestries with detailed patterns and vibrant colors to serve as your captivating backdrop.
Mason Jars: Find charming mason jars for your DIY centerpieces, available in different sizes and designs to suit your preferences.
Wildflower Cake Topper: Explore cake toppers adorned with edible wildflowers to complete your dessert table with a detailed touch of nature.
Boho Party Favors: Discover a range of Bohemian-inspired party favors, from succulent sets to essential oil samples, providing guests with thoughtful and detailed gifts that encapsulate the Boho spirit.
With these detailed Bohemian Chic-themed baby shower ideas, you can transform your event into a memorable and immersive experience.
By focusing on intricate details, you'll create an atmosphere that celebrates nature, freedom, and individuality – all hallmarks of the Bohemian lifestyle.
Your guests will leave with not only cherished memories but also a deeper appreciation for the Boho spirit.
Conclusion
Remember, the key to a successful Bohemian Chic baby shower lies in the thoughtful execution of every element, from the invitations that set the tone to the party favors that send guests home with a piece of the Boho magic.
Embrace the beauty of nature, the warmth of communal gathering, and the charm of vintage-inspired decor, and your baby shower will truly be a Bohemian Chic masterpiece.
So, embark on this creative journey, let your imagination flow, and revel in the enchanting, laid-back ambiance of the Bohemian Chic theme.
Your baby shower will not only be a celebration of new life but also a celebration of the vibrant and free-spirited Bohemian spirit. Enjoy every moment of this Boho-inspired event!