Welcoming a new baby is a special occasion that calls for a memorable celebration. If you're looking to host a baby shower that's not only adorable but also unforgettable, a baby elephant-themed party is the way to go.
In this comprehensive guide, we'll walk you through every aspect of planning a baby elephant-themed baby shower, from invitations to decorations and games. Let's make sure your baby shower is as cute as a baby elephant!
Invitations That Set the Tone
The first step in planning your baby elephant-themed baby shower is to set the tone with the perfect invitations. These invitations will give your guests a sneak peek of the delightful theme you've chosen. Here's how to create or select the ideal invites:
Cute Elephant Graphics
Look for invitations that feature charming elephant graphics. Baby elephants are particularly endearing and symbolize the joy of new beginnings.
These graphics will instantly convey the theme to your guests. Consider options with baby elephants holding balloons, wearing party hats, or simply looking adorable.
The choice of graphics is crucial because it's the first visual element your guests will see. Baby elephant graphics set the mood for the entire event, conveying the theme and making it clear that this is no ordinary baby shower.
Pastel Colors and Playful Font
Opt for pastel colors like soft blues, pinks, or grays. These colors are not only gentle and inviting but also align perfectly with the baby elephant theme. Pair them with a playful font that adds a touch of whimsy to your invitations.
The color palette and font selection help create a cohesive and visually appealing invitation. Pastel colors evoke a sense of innocence and new beginnings, while a playful font complements the overall theme.
Customizable Invitations
If you want to add a personal touch, consider customizable invitations. Websites like Amazon offer a range of templates where you can add your own details, such as the baby's name, shower date, and location. This way, you can make the invitations uniquely yours.
 Customizable invitations allow you to personalize the details to match your event perfectly. It's an excellent option if you want to add a heartfelt touch to your invitations.
Envelope Presentation
Don't forget about the envelopes! Choose envelopes that match the color scheme or feature a baby elephant design. Adding a baby elephant sticker as a seal can be a charming finishing touch.
The envelope presentation may seem minor, but it adds to the overall impression. It hints at what your guests can expect inside and sets the mood right from the moment they receive the invitation.
How to Download
What you need to do is click (left-click) the preview image.
You should see a new page popped-up in your display, then you need to "right-click" the image and select "Save image as"
Locate the destination folder, or just leave it as it is. Then "Enter" to start the download process.
Please note this, all files/materials have been included in that package, so once it's finished, you are able to customize it right away.
Décor that's Trunk-tastic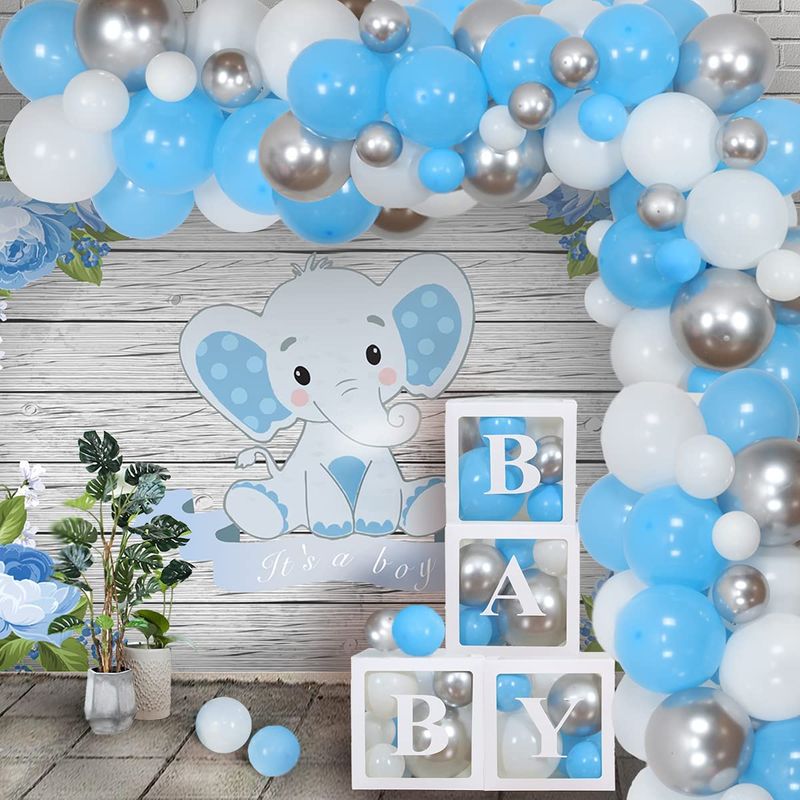 Transforming your party space into an elephant wonderland is a delightful part of the planning process. Your decorations should seamlessly incorporate the baby elephant theme, creating an inviting and festive atmosphere. Here's how to achieve that:
Elephant Balloons for Whimsy
Elevate your décor with elephant-shaped balloons. These playful balloons immediately capture attention and infuse your space with whimsy. Consider getting foil elephant balloons that can be easily found on Amazon.
Elephant-shaped balloons are not only visually appealing but also highly thematic. They create a focal point and set the tone for the entire party. Foil balloons are durable and can be reused for future celebrations.
Banners with Heartwarming Phrases
Hang up elephant-themed banners with phrases like "Welcome Baby" or "It's a Boy/Girl." These banners serve as warm greetings to your guests and reinforce the theme.
Banners act as both décor and a welcoming gesture. They create a sense of arrival and excitement for your guests, making them feel immediately engaged in the celebration.
Adorable Table Centerpieces
Table centerpieces play a vital role in your décor. Consider using baby elephant figurines as centerpieces. These charming figurines add a touch of whimsy and can be found on Amazon.
Table centerpieces anchor your theme on the dining tables. Baby elephant figurines, when strategically placed, draw guests' attention and create a cohesive visual experience.
A Pastel Color Palette
Stick to a pastel color palette that includes shades of gray, blue, or pink. This palette not only complements the theme but also creates a soothing and cohesive atmosphere.
A consistent color palette ties all the décor elements together, ensuring that everything looks harmonious and fits the baby elephant theme. Pastel colors are gentle and evoke feelings of tenderness, which are perfect for celebrating a new arrival.
Sweet Treats and Food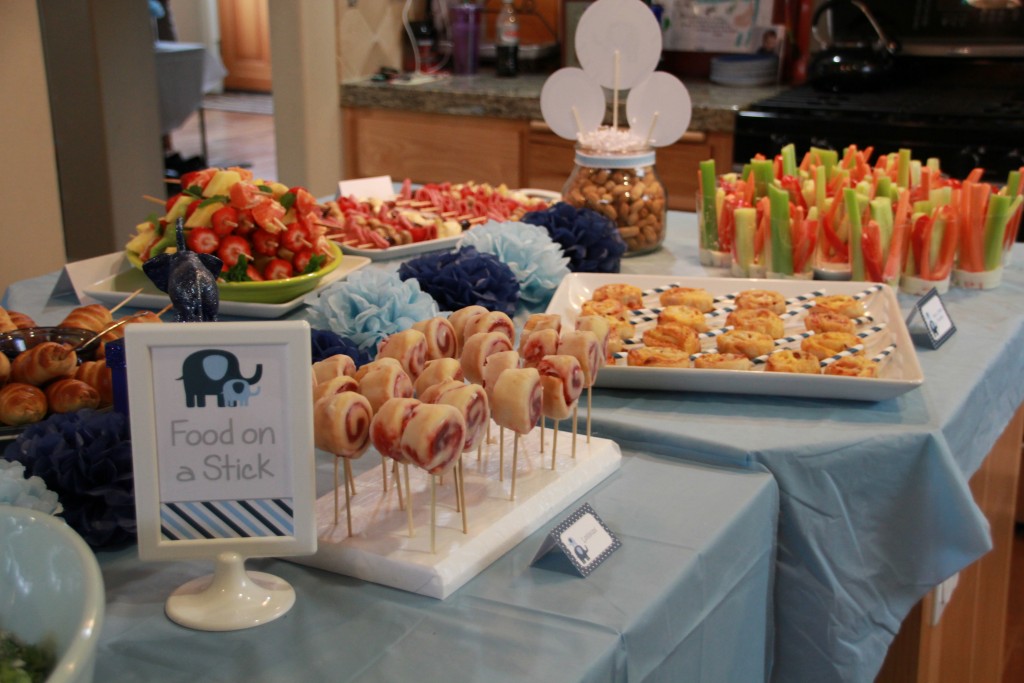 What's a party without delicious treats and food to satisfy your guests' appetites? In a baby elephant-themed baby shower, you have the opportunity to make your menu not only tasty but also on-theme. Here are some ideas for delightful refreshments:
Elephant-Shaped Cookies for Charm:
Whether you're a baking enthusiast or prefer to order from a bakery, elephant-shaped sugar cookies are a must. Decorate them with icing in your chosen theme colors to add charm.
Elephant-shaped cookies are not just treats; they're edible decorations. Their shape and decoration reinforce the theme and provide a delightful visual element on your dessert table.
Cupcakes with Elephant Toppers
Elevate your cupcakes by topping them with edible elephant toppers or small elephant figurines. This adds a playful touch to your dessert spread.
Cupcakes are a popular choice for parties, and adding thematic toppers or figurines transforms them into thematic delights. Guests will appreciate the attention to detail.
A Showstopper Elephant Cake
If you're feeling ambitious, consider a cake in the shape of an elephant as the centerpiece of your dessert table. This cake can be a real showstopper and a conversation piece.
An elephant-shaped cake becomes the focal point of your dessert table. It's a stunning visual element that will amaze your guests and create lasting memories.
Peanut M&M's for Fun
To add a playful twist to your refreshments, provide bowls of peanut M&M's. Not only are they a delicious snack, but they also tie in perfectly with the theme, as elephants are known for their love of peanuts.
Peanut M&M's bring an element of fun and whimsy to your refreshments. They're a nod to the theme that guests can enjoy while mingling.
Games and Activities
Games and activities are essential for keeping your guests entertained and engaged. In a baby elephant-themed baby shower, you can incorporate games that not only amuse but also align with the theme. Here are some game ideas that will add fun and excitement to your celebration:
Elephant Bingo for Interactive Fun:
Create bingo cards with squares featuring items related to elephants and baby showers. As the party progresses, guests mark off the items they spot. The first guest to complete a row or the entire card wins a prize.
Elephant Bingo adds an interactive element to your party. It encourages guests to be observant and actively participate in the theme. Prizes add an extra layer of excitement.*
Guess the Baby's Birthdate and Stats
Set up a station where guests can write down their predictions for the baby's birthdate, weight, and length. Use baby elephant-themed cards for added charm.
Collect the predictions and keep them in a decorative container. After the baby arrives, reveal the actual birthdate and measurements, and award a prize to the guest whose guess is closest.
Guess the Baby's Birthdate and Stats is an engaging activity that involves guests in the excitement of the upcoming birth. It's a fun way for everyone to make predictions and share their best wishes for the new arrival.
Diaper Cake Decorating Contest
Provide guests with diapers, baby essentials like onesies, booties, and bibs, and a selection of baby elephant-themed decorations.
Divide guests into teams and challenge them to create the most impressive diaper cake within a time limit. A prize can be awarded to the team with the most creative and well-decorated cake.
Diaper Cake Decorating is a hands-on activity that brings out guests' creativity. It's a team-building exercise that results in a practical gift for the expectant parents.*
Elephant Photo Booth for Memories
Set up a photo booth with an elephant-themed backdrop and props like elephant masks, ears, and trunks. Guests can take adorable pictures to commemorate the event. Provide instant prints or create a digital album for guests to access later.
A Photo Booth is a fantastic way to capture memories. The elephant-themed backdrop and props not only add to the theme but also create lasting keepsakes for guests and the parents-to-be.*
Party Favors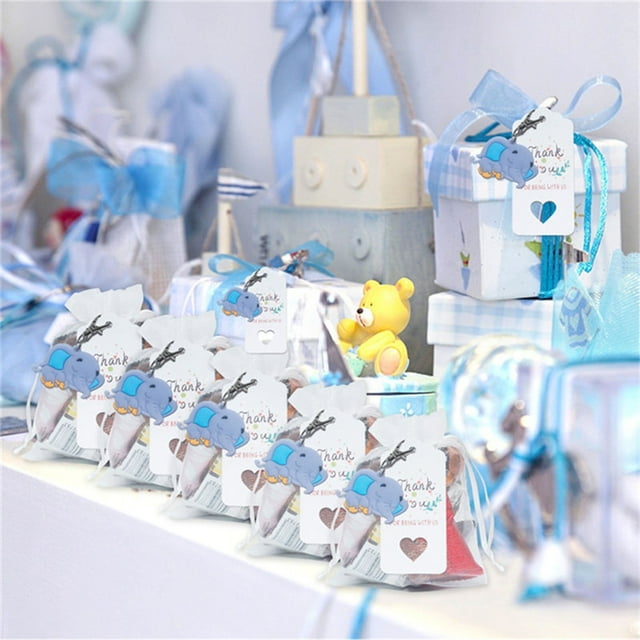 Express your appreciation to your guests with charming baby elephant-themed party favors. These tokens of gratitude will remind them of the wonderful celebration and the anticipation of the new baby. Here are some thoughtful party favor ideas:
Elephant Keychains as Keepsakes
Gift your guests with elephant-shaped keychains. These practical keepsakes serve as a constant reminder of the special day and can be used daily.
Elephant keychains are not just party favors; they are mementos that guests can carry with them. Every time they use their keychain, they'll fondly remember the baby shower.
Elephant Candles for Ambiance
Miniature elephant-shaped candles can add a touch of charm to your party favors. These candles can be lit on special occasions or displayed as decorative items.
Elephant candles are both functional and decorative. They contribute to the theme and create a cozy ambiance when lit.
Custom Elephant Cookies for Sweet Memories
Wrap up custom elephant-shaped cookies for your guests to enjoy later. These cookies can be individually packaged and customized with a thank-you message.
Custom cookies add a personal touch to your party favors. Guests will appreciate the effort put into creating something special just for them.
Thank-You Notes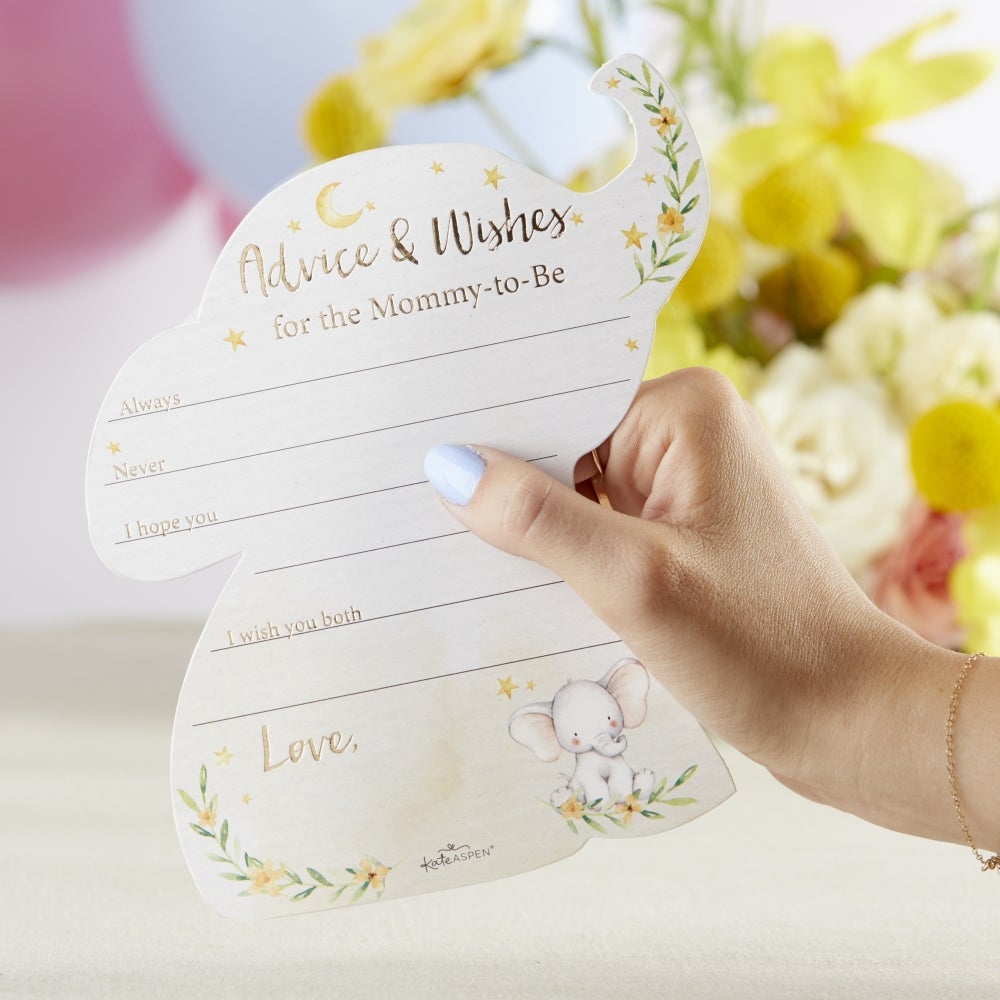 After the baby shower, it's essential to express your gratitude to your guests for their presence and well-wishes. Baby elephant-themed thank-you notes are the perfect way to tie everything together and leave a lasting impression. Here's how to make them special:
Matching Thank-You Cards:

Ensure your thank-you cards match the style and design of your invitations. Consistency in design reinforces the theme and creates a cohesive visual story.

Matching thank-you cards provide closure to the event and maintain the theme's continuity. They show attention to detail and leave a lasting impression on your guests.
Handwritten Messages:Personalize each thank-you note by including a handwritten message of thanks. Mention specific moments or gestures from the baby shower that touched your heart. Handwritten messages add a warm and personal touch to your thank-you notes. They show genuine appreciation for your guests' presence and contributions to the celebration.
With these detailed baby elephant-themed baby shower ideas, you're well-equipped to host a celebration that's not only cute but also incredibly memorable.
Every aspect, from the invitations to the party favors, has been carefully considered to ensure your baby shower is a delightful and heartwarming experience.
Enjoy planning your baby elephant-themed baby shower and creating cherished memories for all involved!