Ahoy there! If you're planning a baby shower and want to set sail on a sea of creativity, the "Ahoy, It's a Boy!" theme is the perfect choice.
This nautical-inspired theme is not only adorable but also easy to pull off. Get ready to dive into a sea of baby shower ideas that will make your event a memorable one.
Invitations Ahoy!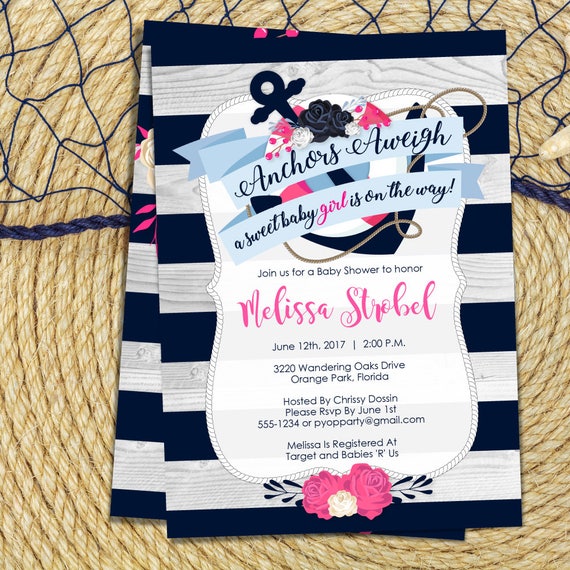 When it comes to setting the stage for your "Ahoy, It's a Boy!" baby shower, your invitations are the first glimpse guests will get of your nautical theme. Instead of going with standard invites, consider nautical-themed invitations.
Look for designs that feature elements like sailor's knots, anchor motifs, or adorable sailboats. These details immediately convey the maritime vibe you want for your celebration.
You can find a variety of nautical-themed baby shower invitations online or at local stationery stores. Opt for high-quality cardstock to ensure the invitations feel substantial and impressive.
How to Download
What you need to do is click (left-click) the preview image.
You should see a new page popped-up in your display, then you need to "right-click" the image and select "Save image as"
Locate the destination folder, or just leave it as it is. Then "Enter" to start the download process.
Please note this, all files/materials have been included in that package, so once it's finished, you are able to customize it right away.
For a truly unique touch, you can take the nautical theme to the next level with "message in a bottle" invitations. Roll up the baby shower details into a tiny scroll and place it inside a small glass bottle filled with sand and tiny seashells.
Seal the bottle with a cork and tie it off with a twine bow. This creative invitation not only sets the tone for your nautical-themed baby shower but also doubles as a keepsake for your guests.
Decorations that Float Your Boat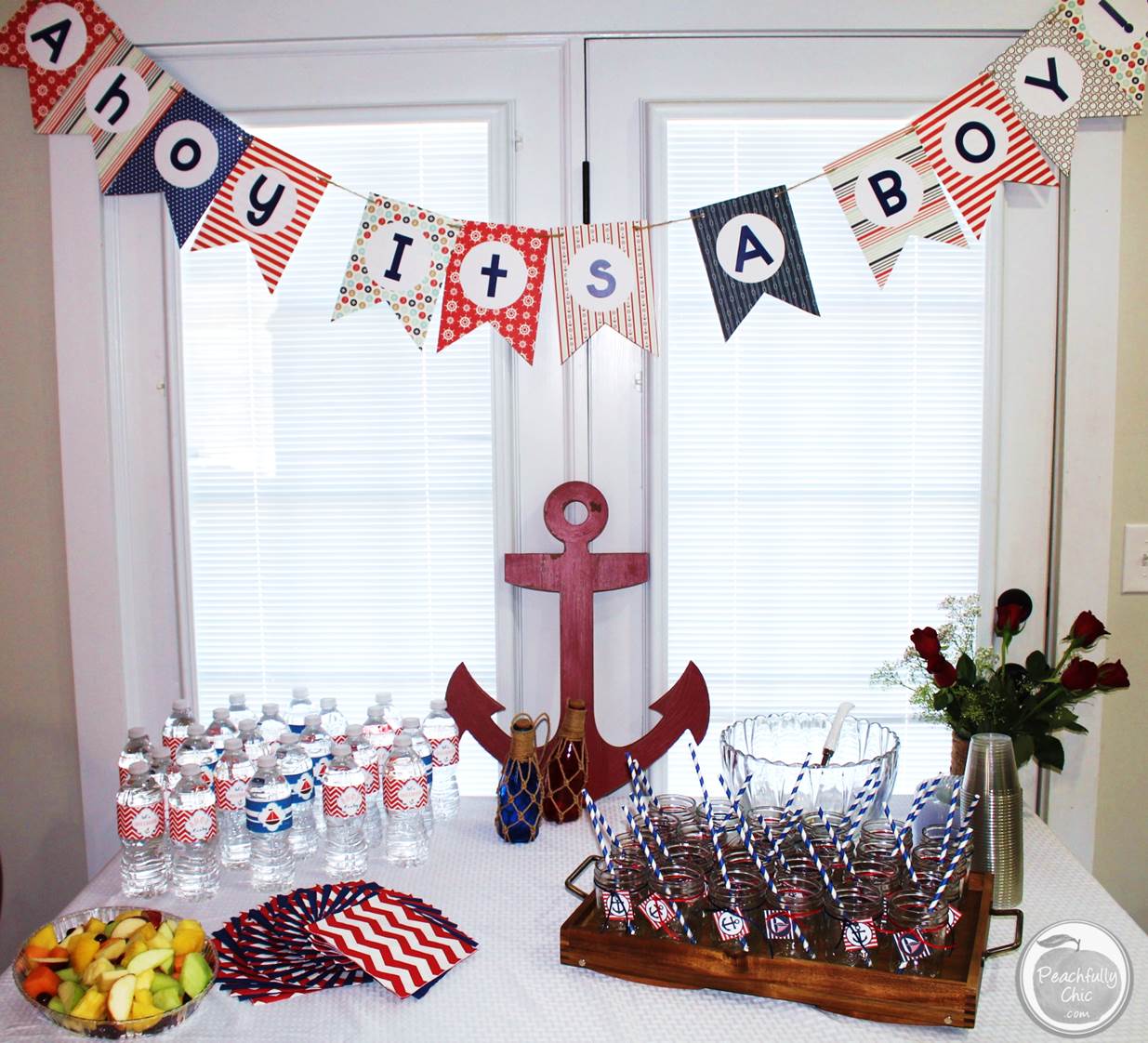 Creating a maritime atmosphere is a cornerstone of an "Ahoy, It's a Boy!" themed baby shower. The first step is to establish a color scheme that's reminiscent of the open sea.
Opt for a classic navy blue and crisp white palette. These colors evoke the tranquility of the ocean and provide a clean, nautical look. You can incorporate these colors into all aspects of your decoration, from tablecloths and banners to balloons and table settings.
Anchor-shaped balloons can serve as both decorations and party favors. Look for high-quality balloons with nautical designs, such as anchors, sailboats, or even lifebuoys.
These can be strategically placed around the party area, adding to the maritime ambiance while also delighting guests with their playful designs.
Consider using helium balloons to create floating centerpieces that mimic buoyancy on the water.
Life preservers are another fantastic decoration choice for your "Ahoy, It's a Boy!" baby shower. Hang these on the walls or use them as table centerpieces.
To personalize them, you can add the baby's name or other nautical-themed elements. These life preservers not only enhance the maritime theme but also make for great photo backdrops for guests to capture memories.
To add a touch of whimsy and authenticity, consider incorporating seashell centerpieces. Fill glass vases or hurricane lanterns with a variety of seashells and sand.
Place a baby-blue candle in the center for a soft, ambient glow. This creates a warm and inviting atmosphere that complements your maritime theme.
Don't forget to invest in nautical-themed tableware to complete the look. Plates, napkins, and cups adorned with anchors, sailboats, or even playful sea creatures like dolphins can elevate the overall aesthetic of your baby shower.
These small details go a long way in tying the theme together and immersing your guests in the nautical experience.
Nautical Delights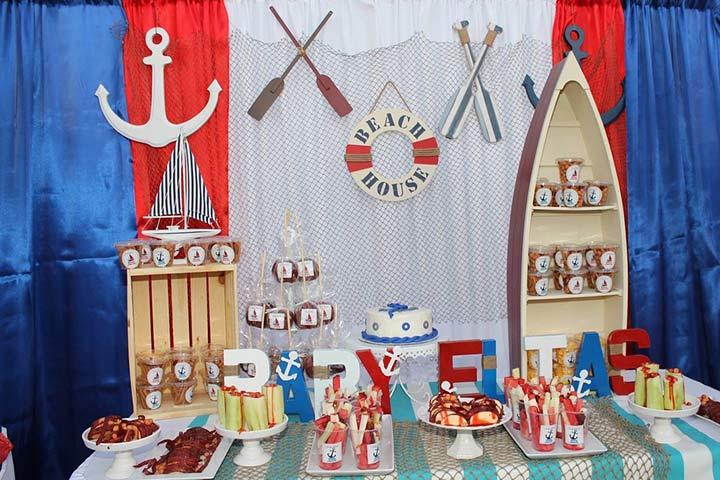 When it comes to food and treats for your "Ahoy, It's a Boy!" baby shower, you have ample room for creativity while staying true to the maritime theme.
Begin with a show-stopping nautical cake. This cake should be adorned with elements like sailboats, anchors, or even a ship's wheel. You can choose to have it professionally made or opt for a DIY approach with cake toppers that echo your theme.
To add even more visual appeal to your cake, consider using ombre frosting. This technique involves filling each of the cake's three layers with different shades of blue, transitioning from a deep navy at the bottom to a light sky blue at the top. This gradient effect mimics the transition from deep ocean depths to the clear, open sky.
For snacks and appetizers, get creative with ocean-inspired treats. "Fish and chips" is a fun option that involves serving fish-shaped crackers alongside classic potato chips.
Another option is "seaweed wraps," where you make spinach tortilla wraps to resemble seaweed rolls. These thematic snacks add a playful touch to your menu while staying true to the nautical theme.
Nautical-themed cupcakes can be another delightful addition to your dessert spread. Top cupcakes with edible seashells, anchors, or baby sailor toppers. These bite-sized treats allow guests to indulge in a variety of flavors while appreciating the attention to detail in the decorations.
Consider taking your menu to the next level with a seafood spread. If you're up for it, serve shrimp cocktail, crab cakes, and lobster bisque. These dishes not only align with the maritime theme but also provide a touch of luxury to your baby shower.
A nautical candy bar is an excellent way to add a sweet touch to your event. Set up a dedicated area with jars of blue and white candies, such as gumballs, rock candy, and jellybeans.
Provide guests with sailor-themed bags or containers to fill with their favorite treats. It's a creative and interactive way to incorporate the theme into your party.
Games and Activities
Engaging games and activities keep your guests entertained and add an extra layer of fun to your "Ahoy, It's a Boy!" baby shower. Consider the following ideas to make your event memorable:
Nautical Trivia
Test your guests' knowledge of all things nautical with a fun trivia game. You can create your own questions or find printable trivia cards online. This game not only entertains but also educates, making it a great icebreaker.
Diaper Messages
During the baby shower, ask guests to write funny or heartfelt messages on diapers. These messages will be a source of laughter and encouragement for the new parents during late-night diaper changes. It's a practical and heartwarming activity that involves everyone.
Baby Sailor Hat Decorating
Provide plain baby sailor hats and fabric markers for guests to decorate. This activity not only serves as entertainment but also yields personalized keepsakes for the baby. Guests can let their creativity shine by adding nautical designs, well wishes, or even their names to the hats.
Baby Bingo
Add a twist to the traditional gift-opening process with a game of baby bingo. Create bingo cards featuring items commonly found in baby shower gifts, such as onesies, pacifiers, and diapers.
As the mom-to-be opens her gifts, guests mark off items on their bingo cards. The first guest to complete a row shouts "Bingo!" and wins a prize.
Nautical Photo Booth
Set up a designated photo booth area with nautical-themed props. Provide sailor hats, life preservers, sailor scarves, and even sailor pipes for guests to use in their photos.
This not only adds a playful element to your party but also allows guests to capture memories in a fun and creative way. Provide a backdrop with a maritime scene, such as a beach or a ship deck, to enhance the photo booth experience.
Party Favors for Smooth Sailing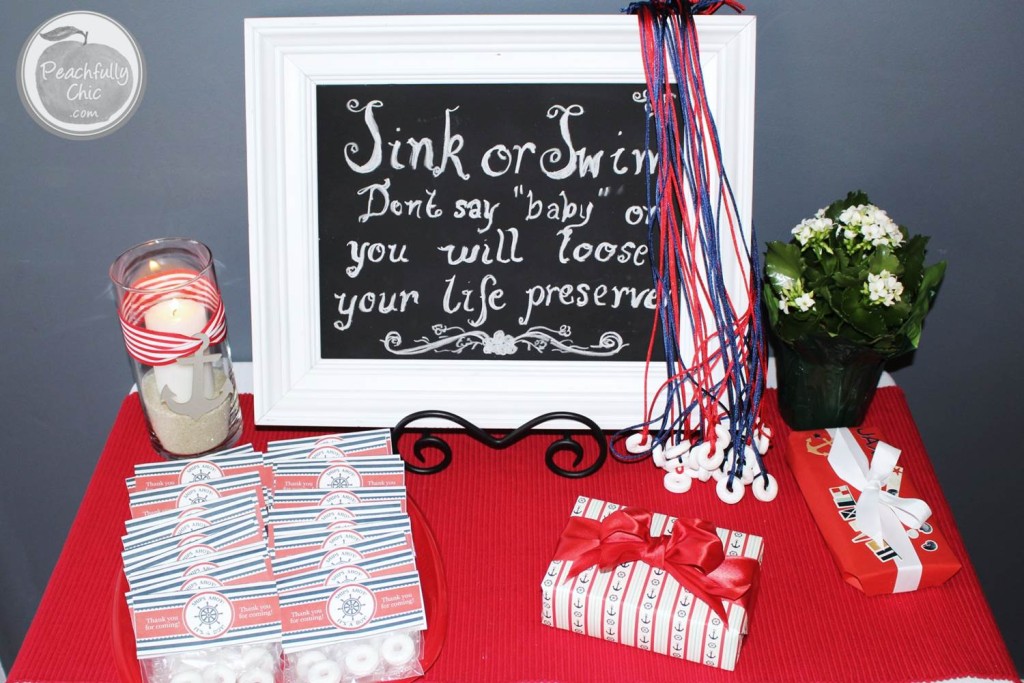 Show your appreciation to your guests with thoughtfully chosen party favors that align with the "Ahoy, It's a Boy!" theme. Here are some detailed suggestions for memorable party favors:
Sailboat Soap
Send your guests home with sailboat-shaped soaps that not only adhere to the nautical theme but also serve as functional favors.
These soaps can be found in various scents and colors to suit your preferences. You can find a charming selection of sailboat soaps [here on Amazon](link).
Mini Message Bottles
Create mini message bottles for your guests, reminiscent of the "message in a bottle" theme from your invitations.
Inside each tiny glass bottle, include a heartfelt message of gratitude for attending your baby shower. Seal the bottles with corks and tie them with twine for a charming and thematic favor.
Nautical Keychains
Personalized nautical keychains are practical and memorable favors that guests can use in their daily lives.
Consider customizing these keychains with the baby's name or the date of the baby shower to make them extra special. You can find a variety of nautical keychains online or at local craft stores.
Dressing the Part
To complete the immersive "Ahoy, It's a Boy!" experience, encourage your guests to dress in nautical-inspired attire. This not only adds to the festive atmosphere but also allows everyone to participate in the theme. Here are some suggestions for dressing the part:
Nautical Attire
Invite your guests to embrace the nautical theme by donning clothing that reflects it. Sailor stripes, sailor dresses, or captain's hats are excellent choices. Adults and children alike can have fun with nautical-inspired outfits, adding an extra layer of excitement to your baby shower.
Mom-to-Be's Outfit
Encourage the mom-to-be to join in the fun by wearing a sailor-themed maternity outfit or a dress with anchor or sailboat prints. This can be a delightful way to showcase her participation in the nautical theme and create memorable photos.
Incorporating these attire suggestions not only makes the baby shower more engaging but also adds an element of unity as guests come together in their themed outfits.
Conclusion
With these detailed explanations and creative ideas, your "Ahoy, It's a Boy!" themed baby shower is sure to set sail on a sea of memorable moments.
From invitations that establish the theme from the start to decorations that immerse your guests in a maritime atmosphere, every aspect of your baby shower will be a celebration to remember.
Delight in the delicious nautical delights, entertain guests with fun games and activities, and express your gratitude with thoughtful party favors.
Encourage everyone to dress the part for a cohesive and joyful experience. Smooth sailing, and congratulations to the parents-to-be!